What a way to make an impact! Christina Aguilera, 36, rocked the stage at the 2017 American Music Awards on Nov. 19, and she looked absolutely stunning. After all, she was wearing a beautiful black blazer and looked like an absolute rockstar! We love how the "Genie in a Bottle" singer exuded glamour AND edge, and we have to say, her slicked-back hairdo was everything! We can't say we're surprised though by Christina's unique look — she ALWAYS makes sure to bring it on the fashion front. Click here to see more amazing pics of Christina Aguilera.
Looking completely wow-worthy, Christina shamelessly showed off her cleavage in an all-black ensemble that she made look elegant and classy. The singer's style is typically over-the-top, but we love how she toned it down during her tribute. Her makeup was also super minimal and she had her blonde locks slicked back in a wet style. Not much jewelry was necessary, but Christina did have on gorgeous crystal drop earrings, which was the icing on the cake for her glam look. SO stunning!
While Christina has never actually won an AMA, she has been nominated for the prestigious award twice. Back in 2001 she was up for Favorite Pop/Rock Female Artist, and in 2003 she was a hopeful for the International Artist of the Year Award. This year, however, she's solely attending the show as a performer. In fact, the blonde bombshell will be honoring the late Whitney Houston with a 25th anniversary tribute. Christina's performance will include songs from The Bodyguard — and we cannot wait to hear her belt out "I Will Always Love You."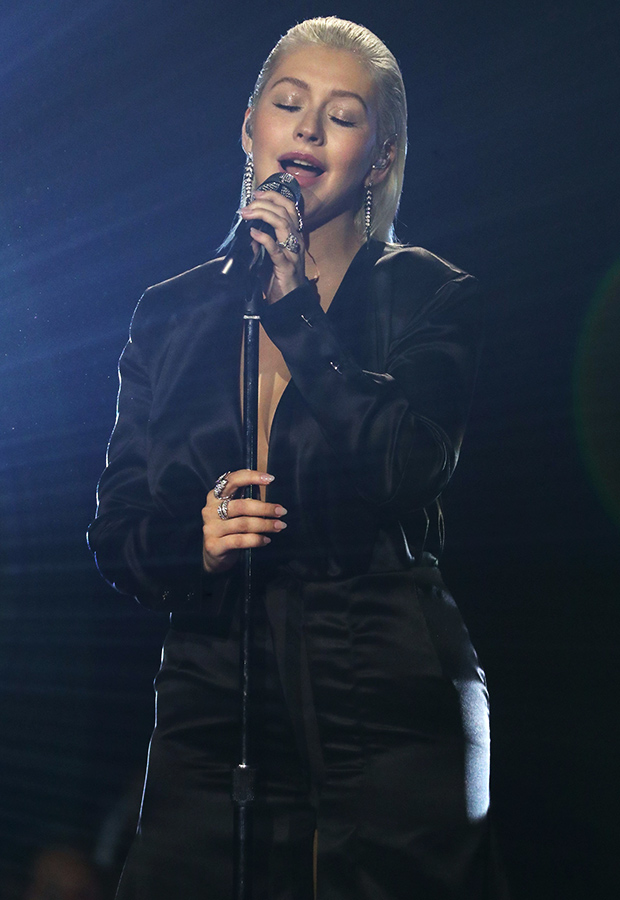 No one is better qualified for this honor than Christina. After all, "Whitney herself stated in 2001 that Christina Aguilera sang the best version of her song 'Run to You,'" Houston's estate offered in a press release. Soon after the news was announced, the singer expressed her extreme gratitude for being chosen. "To be honoring the one and only, Whitney Houston, is a blessing and I am grateful to celebrate the spirit of her songs and legend that lives on," Christina said in a statement.
"I feel eternally fortunate to have personally met her on and off the stage. My deep appreciation for her kindness to me while coming up in the business — her graciousness, generosity, humanity and beauty — lived up to everything I could have hoped for in meeting my idol and will forever be cherished in my memory of her."
Tell us, HollywoodLifers — what do you think of Christina's AMAs look this year? Love or loathe?