The year is starting to come to an end, which means that it's time for us to start looking back at the best CBD products of the year. Of course, countless CBD oils have hit the market over the past eleven months, which is why we are utilizing our third-party lab test results to help you sort out which ones are the best. So whether you're looking for a full-spectrum CBD oil that contains all the right cannabinoids, a true CBD isolate that contains zero THC, or something in between, you can be sure to find a reliable CBD product through Real Tested CBD.
This full-spectrum CBD tincture from Dad Grass is exactly what we look for when testing and reviewing CBD products. It is packed with cannabinoids, tests over the label claim for CBD, and is moderately priced at $0.04/mg of CBD. This CBD tincture also passed residual solvent & pesticide testing; and, like all Dad Grass products, has terrific packaging. If you're looking for a trustworthy full-spectrum product that contains a wide range of cannabinoids, this is a great place to start!
This CBD isolate oil from Butler Hemp Co. tests extremely accurately to the label claim, and is very inexpensive ($0.02/mg of CBD). While this product doesn't contain any cannabinoids other than CBD, it is one of the very best CBD isolate products on the market. Butler Hemp's COA on their site is very similar to ours from KCA Labs as well. This product also passed residual solvent & pesticide testing. Give this product a try if you're only looking for CBD and no other cannabinoids.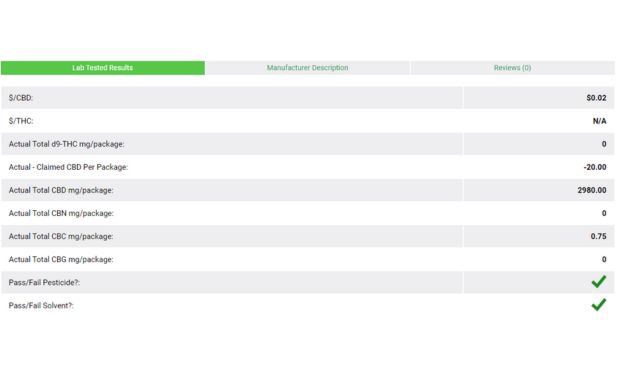 This broad-spectrum CBD oil from Casper's Oil tests extremely accurately to the label claim of 1000 mg of CBD. While it doesn't contain any detectable amounts of THC, it does contain some CBDV and CBG. It's the presence of these other, more rare cannabinoids that differentiate this broad-spectrum product from a CBD isolate product. At just $0.07 per mg of CBD, it's very affordable, and it passed all residual pesticide and solvent testing!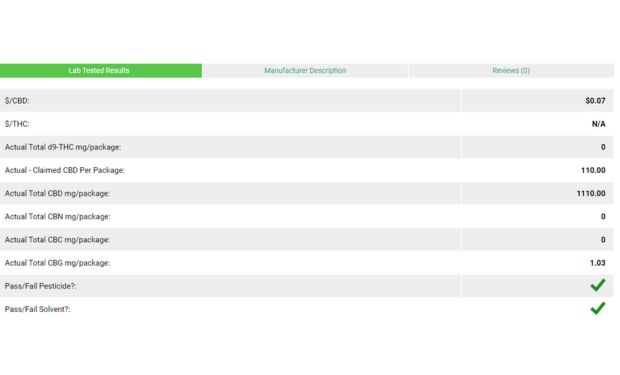 Find Trustworthy CBD Oils with Real Tested CBD!
It's an unfortunate truth that some CBD companies aren't honest about what's in their products. That's why Real Tested CBD is dedicated to providing you with unbiased reviews and third-party lab test results for all of today's leading CBD products.
Next time you're shopping for full-spectrum, broad-spectrum, or CBD isolate oil, be sure to stop by RealTestedCBD.com first. There, you will find more lab test results and reviews for the best CBD oils, along with our rankings for other CBD products and delta-8 products. You can also discover the answers to all of your CBD-related questions on our blog. Whether you're looking for reliable CBD or delta-8 products, Real Tested CBD can help!