Barefoot luxury at its best! It may be August, but summer isn't over and it's not too late to hop on a plane for that last minute European getaway you've been dying to book.
Nikki Beach Global, which first opened its famous day club in Miami Beach back in 1998, is celebrating its 25th anniversary this year, and their 5-star Porto Heli and Santorini resorts are nothing short of stunning. Each location has refreshed their food and beverage menus, including rotating globally-inspired, shareable dishes to indulge in with your family and friends.
While Nikki Beach is now known for its hotspots around the world, the brand was initially launched in remembrance of founder Jack Penrod's 18-year-old daughter, Nicole, who passed away in a car accident in 1997. He chose to honor and celebrate her life by transforming his former property – Penrod's Beach Club – into a beautiful butterfly garden named Cafe Nikki. The following year, Penrod expanded the property into a beach club and today, the company operates 11 beach clubs and five resorts around the world, with the design and ambiance still inspired by Nicole and the philosophy of "Celebrating Life."
That philosophy can be translated into whatever kind of vacation you're looking for as both Greek resorts boast more relaxing offerings like spa treatments and yoga classes, and also fun, party vibes when the music picks up at the beach club in the afternoons. It really is the best of both worlds!
Nikki Beach Resort & Spa Santorini
Santorini, a gorgeous volcanic island, is one of the more popular tourist destinations, and this Nikki Beach resort is perfect for anyone who wants to enjoy the shopping and nightlife without staying in the noisy center of it.
The property sits just a short drive to neighboring villages, the Santorini International Airport, the Museum of Prehistoric Thera, and many other local sites.
Overlooking the Aegean Sea, Nikki Beach Resort & Spa Santorini features 62 beautiful rooms and suites, including 13 with a private jetted tub and 35 with private pools. The views of the ocean are breathtaking!
And did we mention the Olympic size pool, fit with plush daybeds lining the deck and a swim-up bar for easy access to signature cocktails and music from resident DJs?
Be sure to dine at the in-house Mediterranean restaurant, Escape, which sits atop the black volcanic sand and on an elevated deck with views of the Aegean Sea.
The menu, curated by Michelin-starred chef Ettore Botrini, features the freshest local seafood, along with an assortment of Greece's most iconic traditional dishes crafted with a modern twist. We recommend the Aegean sea bass carpaccio, the signature Greek octopus with fava or the amazing wlow-cooked lamb with fresh veggies.
Cafe Nikki is also always open daily for breakfast with both an à la carte menu and an impressive buffet of fruit, freshly baked pastries and local delicacies.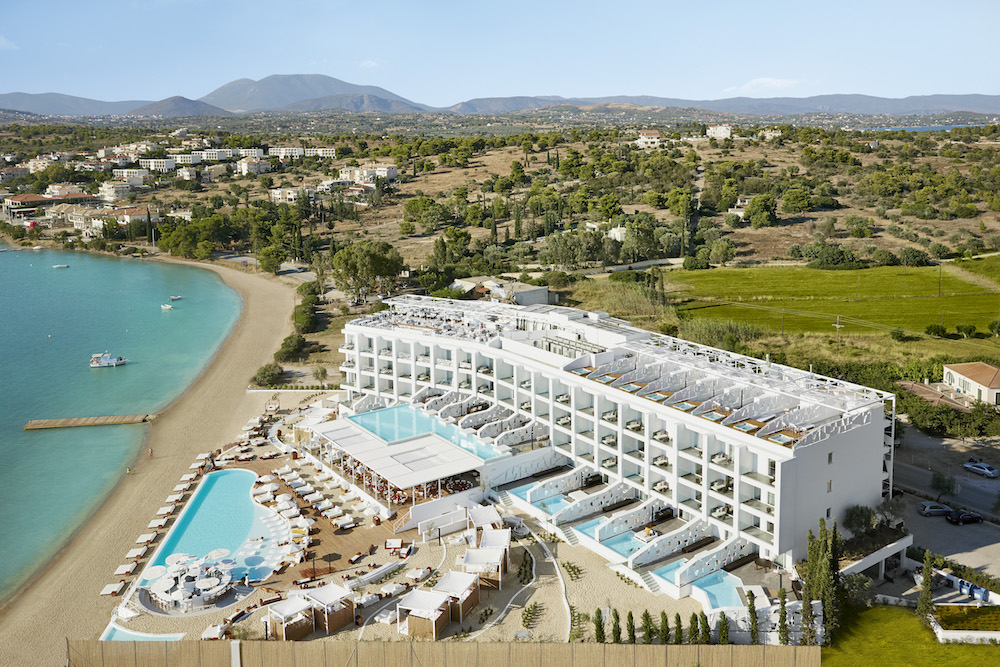 Nikki Beach Resort & Spa Porto Heli
In the underrated destination on the heart of the Greek Riviera – just a couple of hours from Athens – Nikki Beach Resort & Spa Porto Heli is a gorgeous 66-room resort with spacious accommodations, some of which include private pools and hot tubs, as well as entertainment walls and oversized platform beds.
Visitors can also take a short boat ride across the bay to Spetses, a picturesque island with unique architecture, history and culture.
Just like all Nikki Beach locations, the Porto Heli beach club features an amazing view and killer vibes, in addition to delicious food with a menu that focuses on light, fresh offerings that highlight Porto Heli's traditional flavors mixed with global dishes offered at Nikki Beach locations around the world.
Expect fresh salads, seafood, sushi boats (we HIGHLY recommend those!) and more at a restaurant table or on a daybed. When it comes to the beverage menu, you can order luxury wines and champagnes, plus an array of signature cocktails.
The property's in-restaurant, Qurio, sits on the 4th floor rooftop terrace with a menu curated by 2 Michelin Stars awarded chef Arnaud Bignon.
Eat under the stars and take in breathtaking sunsets, lively music and fresh seafood including ceviche, king crab salad, risotto with prawns and more.
The resort also offers a delicious breakfast daily at Café Nikki with both a la carte and buffet options, in addition to lunch at the Beach Club Restaurant,
And if all that isn't enough, treat yourself to a relaxing Nikki Beach spa experience with methods combining the ancient Greek massage therapies and the ideas of the healthy lifestyle of Hippocrates.
For more info on booking your stay, visit NikkiBeach.com.