"I love playing video games, and Fortnite is at the top of my list, so it was super exciting for me," Landon Barker tells HollywoodLife of his involvement in the Fortnite x Timex "Race Against Timex" challenge in the massively popular video game. Launched in late 2022, the challenge puts Fortnite players in a watch-infused virtual world where they compete in multiple races against the clock. The collaboration included partnerships with numerous gamer influencers, including Landon – a Fornite and Timex fan who was "stoked" to be part of the game.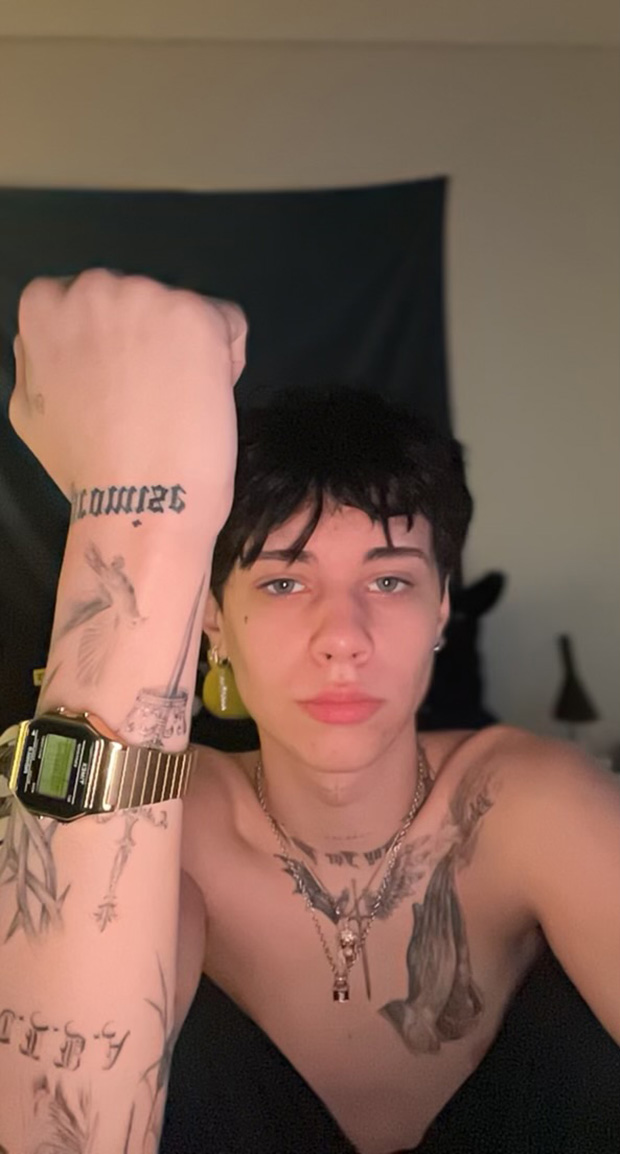 The "Race Against Timex" also allowed Landon to hone his skills. I haven't played a ton of time trials in video games, but from the ones I have, I didn't find myself being super nervous or anything like that," says Landon. The son of Travis Barker and Shanna Moakler turns 20 this year, so he may not have known the nerve-wracking experience of the underwater mission in the original Teenage Mutant Ninja Turtles NES game or the fear induced by the countdown music when Sonic The Hedgehog was running out of air, but Landon doesn't fear the countdown. "I do like things that are challenging from time to time though," he says.
One of the secret challenges in Fortnite's "Race Against Timex" is discovering all the different Easter Eggs. Along with Landon, Fortnite and Timex teamed with gamer personalities like Parker Locke, Sushi Bae, and SypherPK, who contributed to the challenge by infusing parts of their personalities and brands in the "Race." For Landon, this means putting in a personalized Easter Egg – but he wasn't going to explain how to find it.
"I do have an Easter Egg for everyone in the challenge," he tells HollywoodLife, "and I don't want to give too much because I think that it may take away from the fun. What I will say is it is something that you can find in Hollywood."
Like the nature of the Timex challenge, Fortnite isn't a game that sits still. The game – which has transformed into a metaverse platform that has hosted virtual concerts from Travis Scott, Marshmello, and Ariana Grande – continues to shift and evolve. However, Landon suggested that maybe the game could throw it back with the next big event.
"I think something cool would be the option to play the OG map again," he says. "I know it may sound like something that everyone thinks or may say, but I think after how far the game has come, it would be cool to go back to how it started. Even if it is just a limited-time game mode."
If this comes to pass, expect Landon to be the first to dive back onto the island. Perhaps he could even DJ the launch event? When discussing his involvement, HollywoodLife asked Landon to pick a few songs for different "times" of the day. In doing so, he gave a little bit of love to Machine Gun Kelly, who worked with Landon on their collab, "Die In California" (and whose last two albums Travis produced and played on.)
Best Song To Play While Getting A Tattoo
Pierce The Veil and Kellin Quinn, "King For A Day"
Best Song To Play When You're Getting Away With Something You Shouldn't Be Doing
Machine Gun Kelly, "Drunk Face"
Best Song To Play When You Feel Run Down
Neck Deep, "Wish You Were Here"
---
To play "Race Against Timex," go to Fortnite, choose "Creative" mode, select "Play," and input the "Island Code" 1359-6287-8998.
Fortnite can be played for free on PC, PlayStation (4 and 5), Xbox One (S, X, and Series X or S), Nintendo Switch, and Android mobile devices.
Click to Subscribe to Get Our Free HollywoodLife Daily Newsletter

to get the hottest celeb news.