It's been nearly twenty years since twin brothers Bill and Tom Kaulitz connected with Gustav Schäfer and Georg Listing to form the band that would ultimately become Tokio Hotel. 2020 also marks the 15th anniversary of the group making their mark on the musical landscape with "Durch den Monsun"/"Monsoon." Released in 2005, the debut single debuted at No. 15 on the German charts and continued to climb until it reached No. 1. It quickly became a Top 19 hit in countries like France, Italy, and Austria, with the English-language version released two years later.
"Monsoon" swept the European music world like the titular storm, establishing the young band as a new force in rock. Now, fifteen years removed from their debut, Tokio Hotel commemorated this song with "Monsoon 2020." It's a bridge between the past and the present, of a band on the verge of a massive breakout and four rock veterans looking at where they came from before embarking on the next chapter of their storied career. "The song represents change," bandmember Bill Kaulitz shares EXCLUSIVELY with HollywoodLife. "Change is what's happening now in the world we live in."
Bill, in this EXCLUSIVE interview, details what went into making "Monsoon 2020," including the retrospective music video, as well as how Tokio Hotel has grown – as a band and as people – over the last fifteen years.
HL: Tell us about "Monsoon 2020" – in addition to celebrating 15 years, why did you decide to release a re-make?
Because the song represents change. 15 years ago, it changed our lives and the lives of so many other people forever. Change is what's happening now in the world we live in, in 2020. So we felt like it was almost a necessity for us to re-record and give it a whole new perspective. We also wanted to celebrate 15 years of "Monsoon" properly. We asked ourselves, "how would this song sound if we recorded it today? If we only had the lyrics and nothing else… start from scratch. So that's what we did. We wanted to make an homage to the song. A declaration of Love.
Will you be doing the same for any other songs off of the Scream album?
I don't think so. For us, it's all about moving forward and creating something new. "Monsoon" was an exception and a fun way for us to introduce the sound and aesthetic of the new record.
What was it like creating the new music video for "Monsoon 2020"? can you elaborate on the story behind the elements involved?
That was a tough task. I reached out to Kris Moyes because I needed a creative mastermind and someone that's crazy and bold enough to touch something again that millions of people around the globe loved so much. I invited Kris to twist it with me. That's what we did together. We took the old package and gave it a whole new life and look without taking away from the original one. Using my body as a canvas, looking back and moving forward, we wanted to give the audience something new and special but also include the last 15 years of our band history. We also included some unique extravagant FX shots with me in a dress and played around with some cool new technology.
It's incredible that you wrote "Monsoon" in your early teens, with lyrics that are just so profound… what is it actually about? Has the meaning changed in adulthood?
It's about overcoming anything for LOVE. It's about passion and unconditional commitment. Now with the new melody and sound, the lyrics got a whole new meaning for me, though. I rediscovered them and interpreted them so differently. There is a longing for hope and togetherness in it that feels so relevant and this crazy year that we are all stuck in. "Together, we'll be running somewhere new" – I think that's what we're doing!
How have you grown as a band and as people in the last 15 years?
It kind of feels like everything changed and nothing at all at the same time. Like, life is so long and so short at the same time. It's hard to explain. We are definitely in a whole different place today. Much more comfortable with ourselves as musicians, more confident. I think we found a good balance between our personal lives and our career and learned self-love and to look out for ourselves.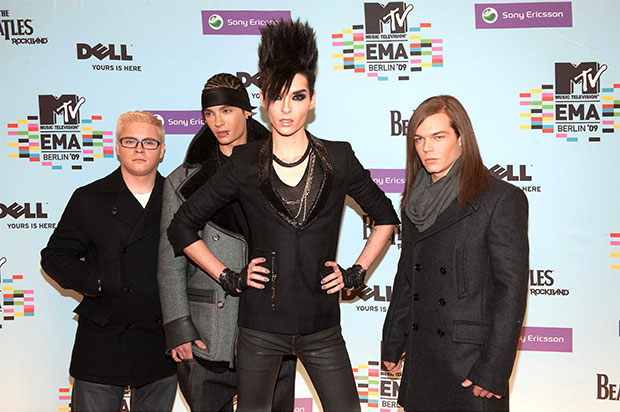 Real talk – what is your opinion on artists who evolve/change their sound? It seems too often fans are upset by this, but growth is inevitable and should be welcomed, right?
Change is the most important thing for an artist. Stagnancy is death. When you start to repeat yourself, you become a parody of yourself. A less interesting version. Even if fans don't understand that. Of course, you want your favorite artist to forever stay the same, but that's not gonna work if you are a true artist.
What is it like working together as twin brothers? How does it feel to continue on with this project after so many years! Do you have any sibling stories you'd like to share looking back at your experiences together?
We couldn't imagine a life without each other. Tom and I are so connected. We are like one person. We only function together. That's why working together just came so naturally. That wasn't even a question for us. We are glued together with everything in life.
You release your music in both German and English – how does that affect the songwriting and production process? Is there anything you've had difficulty translating from one language and culture to another?
It is difficult, and that's why we don't do that anymore. We only write and record in English. We don't do any German anymore. It just doesn't feel natural and authentic anymore. We only re-recorded "Monsoon" in both languages because that's what we did back in the day.
You also split your time between Germany and Los Angeles – what is that like?
Well, we only work in Germany. LA is definitely home base, and we love living in America. It's great going back to Europe every once in a while cause now we are just like every other tourist and only do all the fun things. We love eating all the German food that we don't have in America. Like German Knödel, Käsespätzle, or Schwarzbrot.
What's next for Tokio Hotel?
So much, I don't even know where to start. We have so many songs coming out before the album. Videos, performances, interviews… it's just gonna be non-stop. Then, of course, we hope we can tour again next year, so we are planning on that. My autobiography is coming out this upcoming January, so… Tokio Hotel non-stop. Super excited for this new chapter!
—
"Monsoon 2020" is out now.