9 Stars Not Afraid To Show Armpit Hair On Red Carpets: Miley Cyrus, Dakota Johnson & More
Pit hair, don't care! Stars like Dakota Johnson and Miley Cyrus are comfortable going unshaven on the red carpet, and we love it. See pics of nine daring stars who've put down the razor, here!
Dakota Johnson's bold choice to walk the red carpet at the BFI London Film Fest wearing a dress that showed her unshaven armpits is the talk of the town. Girl looked like a million bucks while promoting her new horror movie Suspiria, wearing Gucci, Cartier, and some serious fuzz. This wasn't a case of forgetting to shave before heading out the door. Dakota, 29, was totally comfortable, and maybe even proud, of her choice. She posed with her arms up on the red carpet, leaving the hair exposed. Good for her! While we absolutely admire her candor, she's far from the person to flaunt a hairy pit on the red carpet.
Take Miley Cyrus, for example. The 25-year-old singer rarely shaves her pits, and she's not doing it to make a statement. During her wild phase, going totally unshaven was her norm. Sometimes, she'd even dye her armpit hair hot pink! She's just being Miley. As you can see in the photo below, Miley didn't bother shaving for fancy events, either. She strolled the red carpet at the 2015 amfAR Inspiration Gala wearing a gorgeous dress and opera gloves, while also showing her tattoos and a hint of armpit hair. So cool!
Bella Thorne, 20, is pretty much a professional at this point. She's hot AF and has armpit hair, proving the two aren't mutually exclusive. While she's all about posting sexy selfies that happen to show some hair, she's also comfortable flaunting it on the red carpet. She looked so good at the premiere of Midnight Sun in March, wearing a pretty pink dress with a bustier top and jewel detailing. She was confident enough to show armpit hair, too.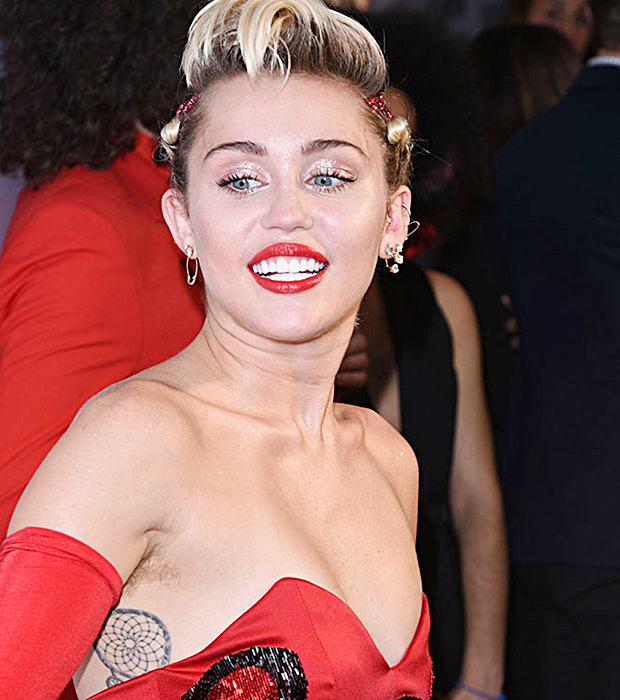 For more pics of badass stars showing off their unshaven pits on the red carpet, like Britney Spears, Jemima Kirke, Paris Jackson, and even Beyonce(!!), scroll through our gallery above!