Tori Spelling, 45, is taking advantage of the warm weather! The reality star spent time with husband Dean McDermott, 51, and their five children while on vacation in Palm Springs, California. For their pool day, Tori rocked a black bikini top and burgundy shorts while taking care of her youngest kid, one-year-old son Beau.
Tori's outfit was perfect for the pool, but this isn't the first time that we've seen her in a bathing suit this season. Earlier this week, the Beverly Hills, 90210 alum shared an image of herself in a navy and magenta floral one-piece swimsuit. At first glance, the post seemed to be body-positive, with a caption about how Tori's grown to accept herself.
"After having my 5th baby I have to admit my body didn't bounce back the way it did with the first 4! But I've been working at it and eating and playing to live my best life and I feel like its showing," she captioned the photo, adding a shout out to her husband for always making her "feel great" about how she looks.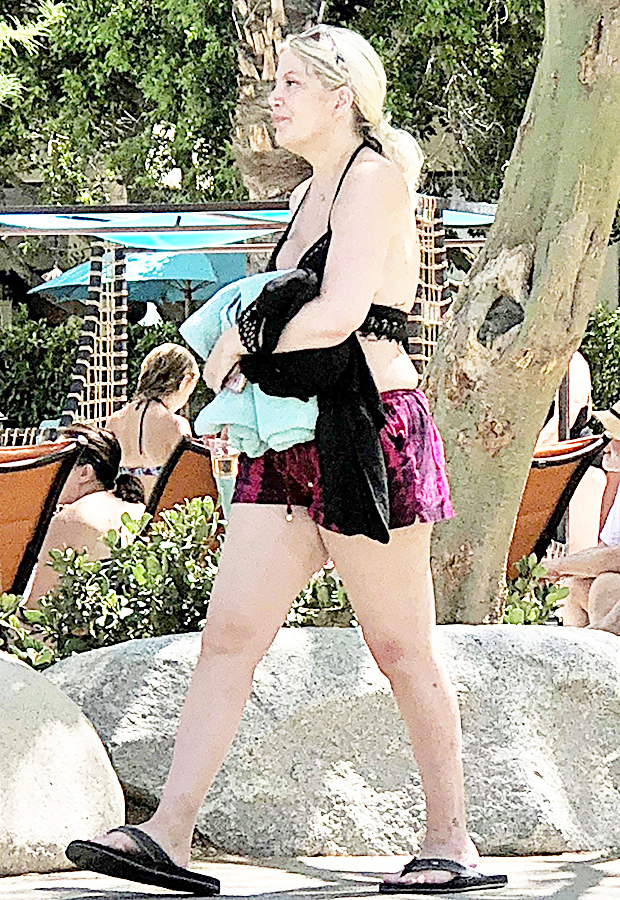 However, not everyone thought her message was as body-positive as it seemed. People started calling her out in the comments section for allegedly altering her appearance in the picture. Many fans claimed she edited parts of herself like her arms, legs, waist and chest. One angry fan wrote, "umm photoshopping the f–k out of yourself is definitely looking for the approval of others. Why not show the real body?"
Other comments included similar accusations of photoshop along with some harsh words. However, there were also fans who defended Tori. Fortunately, based on her latest ensemble, it looks like the actress has chosen to listen to the positive instead of the negative. Keep it up, Tori!