Is Britney Spears' Boyfriend Sam Asghari, 23, Cheating On Her? He Addresses Online Dating Profile
Did Britney Spears' 23-year-old boyfriend set up an online dating profile behind her back? Read about what Sam Asghari had to say about these rumors here!
Trouble in paradise? Britney Spears' boyfriend Sam Asghari, 23, is going on the defensive to publicly deny he's cheating on the singer by maintaining a secret online dating profile. Sam took to his Instagram story to post a supposedly fake Bumble account that shows four photos of himself and to state that he's "not on any dating apps." Of course, a few things stand out from his profile that are a little suspect and could very well be a result of someone using his pics as a means of catfishing. For one, the profile lists him as John, not Sam. It also says he's 30, not 23. And he also lists himself as a lawyer instead of a personal trainer and fitness model. Hmm, something seems pretty fishy about this! Check out the full pic of his "profile" below, and judge for yourself!
The potential existence of Sam's dating profile is surprising because if anything, things seemed to be going well between the two lovebirds. We reported earlier how a source close to the "Work Bitch" singer says that Britney would love to marry Sam and even have a baby girl with him. It's a good thing Sam is trying to clear up infidelity rumors now, you know, before any of those future developments happen down the road.
This isn't the only drama that Britney has been thrown into. Her ex Justin Timberlake, 36, recently shaded her by calling a Vegas residency a "retirement option." Click here to see Sam's sexiest pics of all-time!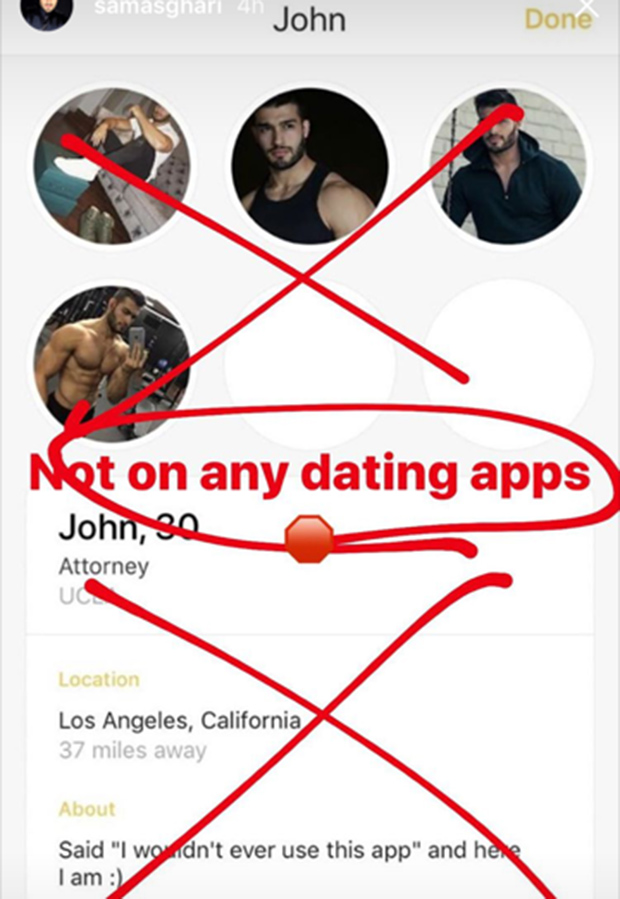 HollywoodLifers, do you believe Sam isn't on any dating apps right now? Are you convinced? Let us know your thoughts in the comment section below.