Couple On The Run After Being Charged With Killing Daughter, 4, Who Had Burns All Over Body
A manhunt is underway for a man & his GF — the mom of a 4-year-old girl who died of severe burns on New Year's Day. The 2 have been charged with the child's murder as well as abuse.
Police in Michigan are currently searching for a mother named Candice Diaz, 24, and her boyfriend, Brad Fields, 28, after Candice's four-year-old daughter was found suffering from severe burns on New Year's Day, according to WNEM.com. The youngster, Gabby Barrett, later died from her injuries, and Candice and Brad were charged with homicide, torture, and child abuse. However, the couple is now on the run and are believed to be traveling in a 2002 Chevy Cavalier with the Michigan license plate DTR1854. Little Gabby was found with brutal scald wounds just before 11 am on Jan. 1 in her family's mobile home. The police officers who responded to the scene said the toddler had "obvious" burns all over her arms and legs.
Not only that, but the mobile home that housed Gabby, her mom, and Brad was littered with animal waste and contained guns and drugs, according to investigators, reports Daily Mail. Gabby was sadly pronounced dead at St. Joseph Mercy Hospital in Ann Arbor shortly after being found. Just two days later, the Washtenaw County Medical Examiner ruled the child's death a homicide with evidence of multiple traumatic injuries and signs of Battered Child Syndrome. Battered Child Syndrome is a set of symptoms, injuries, and signs of mistreatment that is seen on severely or repeatedly abused children.
This isn't the first time Candice and Brad have run into trouble with the law. Back in May 2016, SWAT officers were actually called to their trailer home after Candice reported that her boyfriend had attacked her, shot her dog, and then shot himself. Brad's injuries were not fatal, but he ended up being charged with domestic violence, while Candice pleaded guilty to weapons charges and was sentenced to probation. The below pic is of Candice and Gabby in 2013 — it was taken from the mom's Twitter account.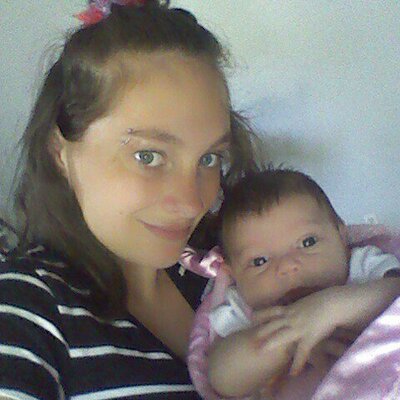 In the aftermath of the toddler's death, some of Gabby's family members, including her biological father Kyle, and her grandparents, gathered in Sumpter Township for a candlelight vigil, reported Fox 2 Detroit. The family said Candice had custody of Gabby at the time of her passing on New Year's Day. Her parental grandmother, Deborah Barrett, described the little girl as a "ball of joy" who loved to play and run around the house, while her paternal grandfather, Jerry Barrett, said he misses his granddaughter very much.
Our hearts go out to Gabby's loved ones during this extremely difficult time. HollywoodLifers, please leave your condolences below.