Tom Petty's death certificate has been released, but there's one problem — The document does not reveal the singer's official cause of death. The certificate, filed with LA County, notes that Petty passed away at 8:43 PM on Oct. 2 at UCLA Medical Center in Santa Monica, CA. He was 66-years-old. See Tom Petty's death certificate, obtained by HollywoodLife.com, below.
The death certificate lists Petty's immediate cause of death as "deferred," meaning his autopsy results may be pending. And, as HollywoodLife.com previously reported, the LA County Coroner's office has yet to reveal his cause of death. For now, the listing on Petty's case is "deferred," Ed Winter, a spokesman for the LA County Coroner's Office told HollywoodLife.com on Oct. 6. By Petty's immediate cause of death listed as "deferred," that means his death certificate — although incomplete — can be issued, so his burial can be properly planned.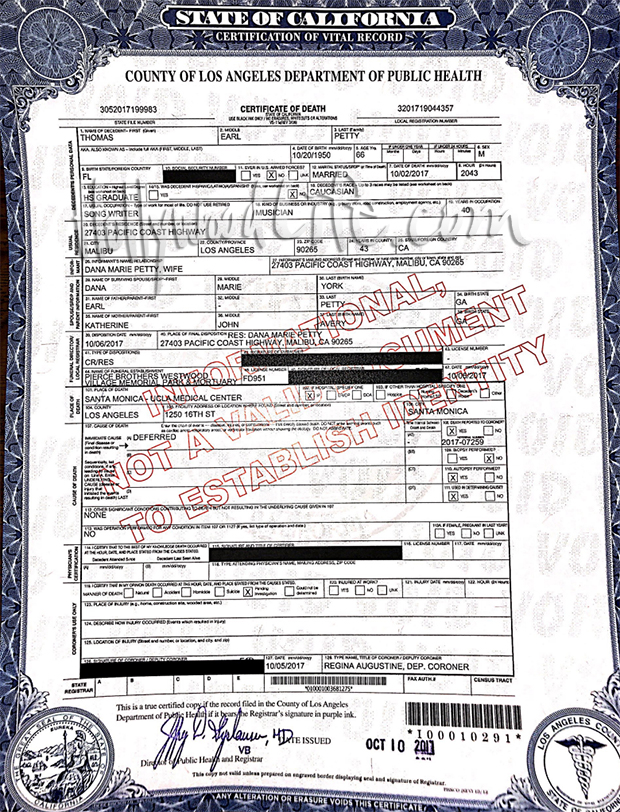 The death certificate revealed the following — Marital status: Married to Dana Marie York; Full name: Thomas Earl Petty; Education: High school graduate; Residence: Malibu [for 43 years]; Race: Caucasian; Career: Songwriter and musician [40 years active].
Cries could have been heard around the world on Oct. 1, when the news broke that Petty was found unconscious in his Malibu home, after going into cardiac arrest, according to reports. He was reportedly put on life support upon arriving at UCLA Medical Center in Santa Monica, CA.
Tony Dimitriades, the longtime manager of Tom Petty & The Heartbreakers, released the following statement on Oct. 3, where he confirmed the singer's death: "On behalf of the Tom Petty family, we are devastated to announce the untimely death of our father, husband, brother, leader and friend Tom Petty. He suffered cardiac arrest at his home in Malibu in the early hours of this morning and was taken to UCLA Medical Center but could not be revived. He died peacefully at 8:40 p.m. PT surrounded by family, his bandmates and friends."
Tom survived by his second wife, Dana York Epperson. The couple met in 1991 when she attended one of his concerts, when he was still married to Jane Benyo at the time. Petty shares two kids, with Benyo — Adria Petty and Kimberly Violette Petty.
Our thoughts are with Petty's friends and family during this difficult time.
HollywoodLifers, you can leave your thoughts in the comments below.