So sad! Chester Bennington's death certificate confirmed the details of his suicide on Aug. 2. The document reveals that the 41-year-old Linkin Park singer took his own life by hanging himself with a belt at 9:08 am on July 20. Scroll down to see the doc obtained by TMZ. Click here to see pics of Chester.
We already knew many of the details of the frontman's death based on police statements and the horrifying 911 call. The call confirmed that it was Chester's housekeeper that found him dead in his bedroom. She could be heard wailing tragically in the background while a driver called the police for help, revealing that Chester had committed suicide.
The death came as a massive shock to fans and the music industry. Chester's friend Chris Cornell took his own life just two months earlier, and Chester performed at his funeral to honor him. He has also spoke in the past about dealing with depression and fighting suicide while promising kids that it gets better. However, his most recent music makes it clear that he was still battling his demons. His final single "Heavy" dealt with depression and the struggles of life, and fans were devastated to realize that it was actually a call for help.
Chester left behind six children and his loving wife Talinda Bennington, who shared a touching message to him one week after his death. We hope that the death certificate can bring his family closure after such a tragic loss. Check it out: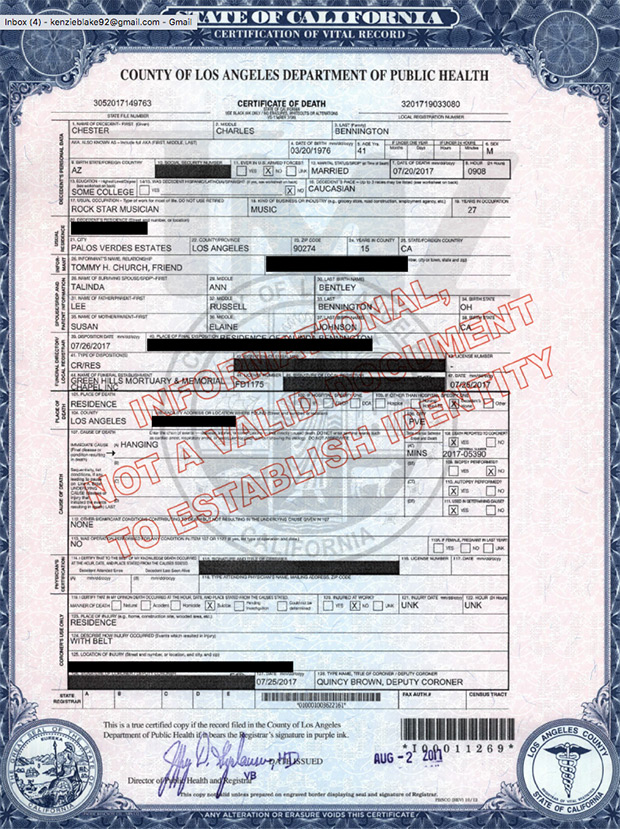 HollywoodLifers, are you surprised by Chester's death certificate? Let us know.