'Riverdale' Recap: Jughead's Disastrous Birthday Drives A Wedge Between Bughead
Senior Entertainment Editor
Surprise birthday parties never end up good on TV, right? Especially not in high school… and especially not for Jughead Jones.
It's no surprise that Jughead Jones doesn't like birthdays — everyone, especially Archie, knew that. However, Betty didn't seem to care; she wanted to throw him a surprise party anyways. She even convinced FP (Skeet Ulrich) to come! Jug was not impressed. Although, we have to say, he could have given Betty some credit for her gorgeous voice while creepily singing "Happy Birthday."
Jug was actually so angry that he snapped on Betty. He explained to her that by throwing him a party, it just proved how different they were and how much she didn't know him. "You're the perfect girl next door; I'm the damaged loaner, outsider from the wrong side of the tracks," he told her before also saying they were "on borrowed time," and that he wasn't "one of your projects." Her breaking point though was when he added that maybe she was just waiting for Archie to like her. Ouch. You could just say, he pulled a Pacey. You all remember this: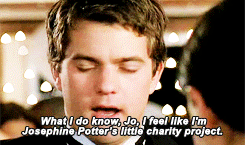 Inside the party, things weren't going any better. Cheryl, who didn't get invited, took it into her hands to crash and bring along the whole school — including Chuck, the guy that Betty went all dark on with in the hot tub. They then forced everyone to play a game that revealed everyone's darkest secrets — like Miss Grundy and Archie's affair, and Betty's break down.
However, Jughead wasn't mad that Betty hid that night from him — he was pissed Chuck revealed it, and punched him out. Luckily, his dad was there to break it up, end the party, and be a dad for once: he told Jug to go in and work it out with Betty, since she clearly needed him. And he was right. When Jughead and Betty finally did talk, she showed him the scars on her hands that her fingernails had left.
So Bughead was perfectly fine at the end, but they weren't the only couple anymore. Archie and Veronica bonded over their parent troubles — Fred had gone to meet up with Archie's mother to sign the divorce papers, and Veronica had been threatened by her father to make a statement in his favor. Well their messed up lives brought them together; they kissed at the party and the next morning, she woke up in his bed. However, he slept on the floor. What a gentleman. I'm shipping it, but I am going to knock off points for Veronica not immediately telling Betty — especially since Jughead saw her leave so now he's going to be stuck in the middle.
Archie also got a bit of hope at the end of the episode: his dad returned home — but he wasn't alone. He brought along his mom (Molly Ringwald!). So, HollywoodLifers — what do you think about Jughead's big episode? What about Archie and Veronica? Leave all your thoughts in the comments below.