Ayesha Curry's third pregnancy has been a rough one. She had such bad morning sickness she ended up hospitalized five times in her first and second trimesters. Now she's in the home stretch with under a month to go and now that hubby Steph Curry, 30, has brought home his third NBA championship in four years, it's time for the pair to kick back and relax. It looks like he's finally taken her on a much deserved babymoon ahead of their new arrival, as she's seen in an Instagram stories photo rocking a black bikini with her massive baby bump front and center. She captioned the pic "homestretch" as their newest bundle of joy is due within the month.
The 29-year-old celebrity cook had been doing her best to support Steph throughout his playoff run. She even travelled to Houston to cheer him on during their grueling Western Conference finals series against the Rockets. Unfortunately a cruel Houston fan aggressively poked and shoved her then eight-month pregnant baby belly. She was still brave enough to be there when Steph's Golden State Warriors took on the Cleveland Cavaliers in the NBA finals. She was in Cleveland for their game four sweep of LeBron James and the Cavs, while couple's two young daughters celebrated their pop's victory watching their daddy on a big screen TV at home in the Bay Area.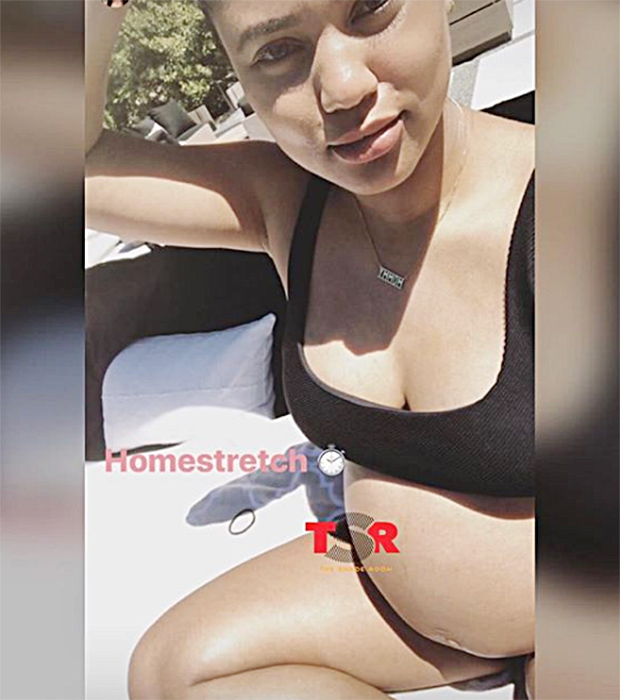 We still don't know if the couple is expecting a boy or a girl, but many fans are hoping that Steph gets a son this time around so he can pass on his NBA legacy to his new child. His dad Dell Curry, 53, spent 16 years in the NBA and passed on his love of hoops, as well as incredible dedication and work ethic to Steph from the time he was a little boy. It all paid off as Steph is a two-time league MVP with three NBA championship rings. He's an adoring daddy to daughters Riley, 5, and Ryan, 2, and loves his little girls. Steph would probably be fine with another daughter, but many basketball fans want to see the Curry NBA legacy continue to a third generation if he finally has a son.