If you purchase an independently reviewed product or service through a link on our website, we may receive an affiliate commission.
There's nothing better than scoring a great deal on an awesome technology accessory! We've got a hot pair of earpods for you that come at a great sale price while providing awesome comfort, fancy features, and best of all, grade-A sound quality. If you're looking for a new pair of wireless headphones that are affordable, look no further than the Kurdene Small Wireless Earbuds which retail for $40 but are currently on sale at Amazon for just $21.66. The earpods are available in six fabulous colors, plus the buds come with a convenient travel case that makes it easy to store away. Aside from these earpods, we included seven other options for you to choose from!
Let's face it: from music, audiobooks, podcasts, and more, it seems like everybody these days is always listening to something. Whether it's on your morning commute to work, or helping you get through a rigorous session on the elliptical machine, audio accompaniment is a very common part of many people's daily routine. There's nothing better than escaping a suffocating, packed bus or train by listening to your favorite playlist on Spotify or catching up on a chapter of a good book, so why not listen in the best way possible, plus in style?
Technology continues to be growing at a rapid pace, and it's an effort in and of itself just to keep up with the latest trends. Earpods, which are wireless headphones, have come such a long way since the first set of audio headphones were invented in 1910 (whoa, that's a long way back, eh?). From there, the skyrocket of wireless technology from walk-mans to mobile phones (Apple and Samsung products alike) began moving so fast, we could barely keep up with what the "newest" tech product on the market even was.
Furthermore, the invention of Bluetooth in 1999 was literally the hottest thing since sliced bread for many tech-lovers. Being able to stream something on your television from the Internet? Sign us up! Just a year later, the first mobile phone with Bluetooth technology was invented, and the craze only got bigger and bigger. Which brings us to the point: we can't seem to live without Bluetooth in many aspects of our lives – including our earpods!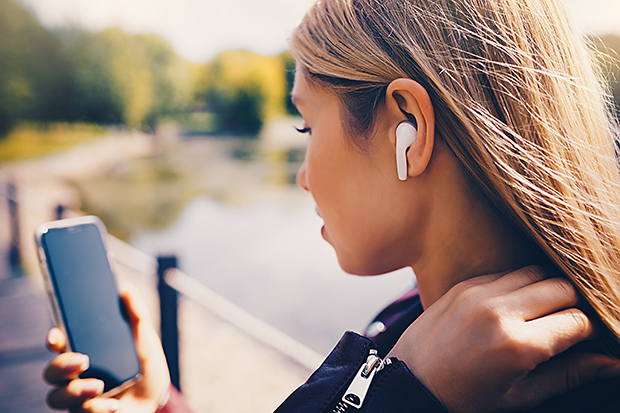 This amazing technology makes listening to anything so much easier and requires simply connecting your mobile device to your Bluetooth headphones. While Apple came out with the groundbreaking Airpods in 2016, many other leading technology brands were fast to design their own version of the exciting new earpods, and the competition was and has continued to be, fierce. Brands like Bose, Beats & more quickly dropped their hottest styles of earpods, and they're not stopping any time soon.
Want to take a look for yourself? We gathered together 8 awesome earpods you don't want to miss out on, listed below. Take a look at these awesome deals and variety of earpods to find out which of these would work best for you!
1. Kurdene Wireless Bluetooth Earpods
You can't beat this awesome deal on these Kurdene Bluetooth earpods, which are on sale and are available in 6 vibrant colors. With an almost 5-star rating, they're well rounded with a charging case, automatic Bluetooth connecting feature, and are also waterproof. The sound quality with these is dynamic thanks to their moving-coil Horn loudspeaker, and with 6 different sizes of ear caps available, you'll be sure to find a size that fits your eardrum perfectly. Talk about getting a lot for an unbeatable price! $22, amazon.com
2. Apple Airpods 'Pro'
The debate as to whether or not Apple products are the best in the game will always exist, but you really can't go wrong with a pair of Airpods. The leading brand of wireless, Bluetooth headphones have come a long way since their debut in 2016, and the 'Pro' version released in October 2019 definitely doesn't fail to impress. They've got an extra layer of cushion for the eardrum providing ultimate comfort, and they're top of the line with their noise-cancellation, sweat and water resistance, and more. $219, amazon.com
3. Apple Airpods With Charging Case
While Bluetooth earpods are very convenient in their tiny, easy-to-pack size, their battery life doesn't last forever. This version of Apple's Airpods are perfect because they've got a charging case, allowing them to charge automatically as you store them! We love this feature because these earpods are able to keep a charge for as long as three hours. Plus, their crystal clear sound makes listening to music seem like you're at an in-person concert. $130, bestbuy.com
4. JBL Endurance Sprint Headphones
If you're not sold on going totally wireless, then these earpods from JBL are for you. Their 'Endurance Sprint' headphones level up with JBL's reputable bass-heavy, clear sound quality, and they sit snug in the ear while also being connected by a thin wire. This way, there's no fear of losing one of the buds since they're connected together, and the wire easily can go behind the head along the neck. These fit perfectly underneath a headband or a ski hat during the colder months, which may be worn during outdoor workouts. $20, bestbuy.com
5. Beats By Dr. Dre 'BeatsX'
Dr. Dre's trademark headphones (yes, the ones that actually go over the top of your head) were insanely popular when they came out around 2008, but his design didn't just stop there. Check out his 'BeatsX' earpods, which come equipped with big-time sound quality in a much smaller package. Again, these two earpods are connected by a thin, black wire that can be worn behind the neck, easily tucked into a scarf or shirt. Plus, with the shortcut volume adjuster on one side of the wire, it's super easy to adjust the volume while listening to your weekly podcast. $70, bestbuy.com
6. TaoTronics SoundLiberty Earbuds
These earpods are the total package. Complete with a charging case, these SoundLiberty earbuds by TaoTronics offer style, comfort, and sound quality. Successfully pair these to your Bluetooth network just one second-automatically after opening the case. The charge on these babies lasts up to 5 hours, and they have a sleek, black design that conforms to the shape of your ear. $40, amazon.com
7. Bose 'SoundSport Free' Earbuds
Calling all athletes! These 'Soundsport Free' earpods brought to you by Bose are perfect for any training athlete, or avid fitness fanatic. Not only are they sweat and water-resistant (which comes in handy during those long, sweaty training sessions), but they also include 3 different pairs of StayHear and Sport tips to fit any ear, ranging from sizes S-L, that provide a super comfy and secure fit. Plus, they're available in cool colors like the blue and yellow color below, as well as orange, black, and ultraviolet. $154, amazon.com
8. Samsung Galaxy Earbuds
Saving the best for last, these Samsung earpods are our all-time favorite! They've got a nearly five-star expert rating for their noise cancellation feature, and have a built-in woofer and tweeter in each pod, which delivers incredible sound quality for a stellar listening experience. Zone out on your bus ride home by listening to your current audiobook, while also looking stylish in the cute light blue shade. They're available in white, red, and dark blue as well. $130, bestbuy.com