Lele is a celebrity contestant on DWTS season 32.
Lele is paired with Brandon Armstrong.
Lele is married.
It's no secret that Lele Pons is already a fan favorite on Dancing with the Stars! The YouTuber, 27, whose full name is Eleonora Pons Maronese, made her DWTS debut with pro Brandon Armstrong in the season 32 premiere. Their fierce tango earned a 19 out of 30 from the judges. For Week 2's Latin Night, Lele and Brandon will be dancing a samba to "Gasolina" by Daddy Yankee.
You might be asking, who is Lele Pons? If you loved Vine back in the day, then you probably recognize this singer, actress, and YouTuber. HollywoodLife has everything you need to know to get caught up to speed on all things Lele.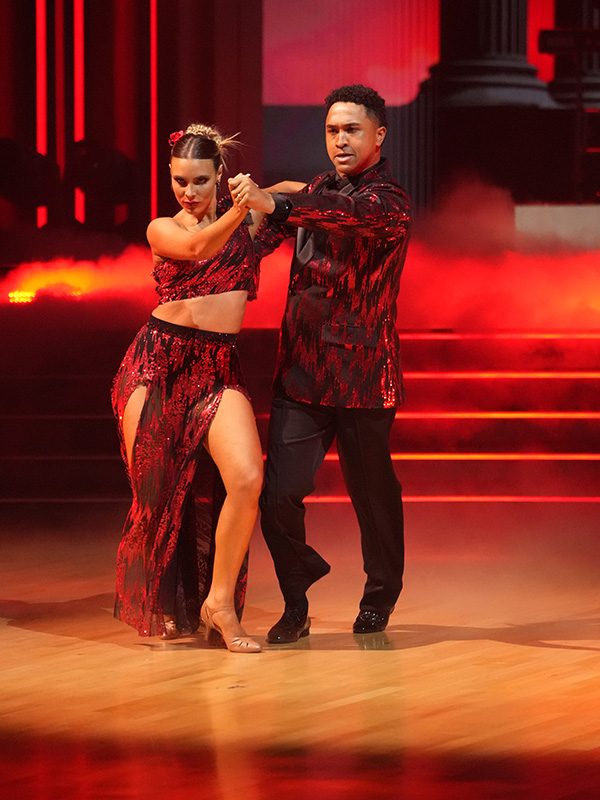 Lele Is From Venezuela
Lele was born in Caracas, Venezuela. She moved to the U.S. when she was 5 years old and resided in Miami. After graduating from high school, Lele moved to Los Angeles.
Lele Rose to Fame on Vine
Before TikTok, there was Vine. Lele had her first breakout moment on Vine and became the third most followed Viner on the platform before it shut down in 2016. She then crossed over to YouTube and has over 18 million subscribers as of September 2023. Before Dancing with the Stars, Lele was revealed as the Jackalope on The Masked Singer.
Lele Is Married
Lele is married to Puerto Rican rapper Guaynaa. The pair notably collaborated on the 2020 song "Se Te Nota" before becoming romantically involved. They went Instagram official in December 2020. Lele and Guaynaa, 31, got engaged in 2022. The couple wed in March 2023.
Lele Has OCD
Lele has been open about having OCD, Tourette syndrome, depression, and ADHD. In her documentary, The Secret Life of Lele Pons, the star called OCD her "deepest, darkest secret." Lele revealed to Entertainment Tonight that she has gone away for treatment at times and explained her symptoms.
"I do a lot of touching, a lot of checking, I touch things, everything. I talk to someone but I repeat myself three times and they don't notice. I touch something three times," she said. "Sometimes I even get nervous when I say [or] do something two times and I'm like, I need to go back… Everything is so calculated. When it comes to thoughts, I have fear of, 'If I don't do this three times, something bad is going to happen.' And you really, really, truly believe it. It's not normal, you know? Because I know for a fact that nothing bad's going to happen, but the feeling is so there that you actually believe it, it's just hard."
Lele Is a Singer
Lele released a collaborative studio album, titled Capitulaciones, with her husband in April 2023. She released her first single, "Dicen," in 2019. Lele was notably a featured artist on the Black Eyed Peas track "Hit It" with Saweetie.