The future looks bright for The Real Housewives of Orange County. The long-running bravo series finished season 17 which was called the show's best season in years, due in part to Tamra Judge and Vicki Gunvalson's epic returns. While fans expected the full cast to be back for season 18, Taylor Armstrong announced on November 29 that she's leaving the show after appearing as a "Friend Of" on season 17. Taylor, an original cast member on The Real Housewives of Beverly Hills, made Real Housewives history when she crossed over franchises.
Here is everything you need to know about RHOC season 18.
RHOC Season 18 Premiere Date
RHOC will not return for season 18 until 2024. Filming is expected to being sometime after the season 17 reunion concludes on October 11. The latest season of the show filmed during the fall months of 2022, which could be the case for season 18. So don't count on watching season 18 until the middle of next year, at the earliest.
RHOC Season 18 Cast
Fans will learn the RHOC season 18 cast once filming gets going. After a dynamite season, there's demand that all six full-time cast members — Tamra Judge, Shannon Beador, Heather Dubrow, Emily Simpson, Gina Kirschenheiter, and Jennifer Pedranti return for season 18. Fans also want to see Vicki Gunvalson back in a greater capacity, after she made several guest appearances during season 17.
Taylor announced her exit from the franchise on November 29. "Loved spending time with the ladies of #RHOC and thankful I got to give the viewers an update on my life," she wrote on Twitter. "I've made some real friendships that I cherish. Wishing the ladies all the best for season 18. P.S. Adding season 17 to my IMDb."
Of all the full-time cast members, Heather's return is the least guaranteed. She had a rough go during season 17 and sparked speculation that she'd leave the show to join The Real Housewives of Beverly Hills after she bought a house in Los Angeles. However, Heather has put it out there that she she wants to continue on RHOC.
"I am very grateful for this platform and so you know what? If they'll have me back, I don't see why I wouldn't hold an orange," she told E! News in September 2023.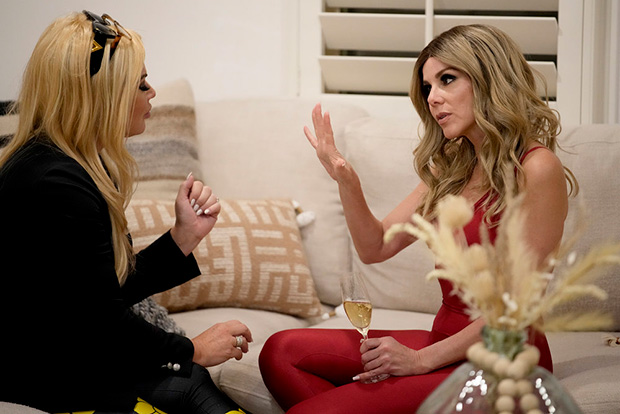 Emily did an interview on Access Hollywood's Housewives Nightcap and addressed whether or not Heather will come back to the show after the former actress threatened to quit the reality program during the cast trip to Mexico.
"She's never told me one way or the other if she is or not. I would think that she will," Emily said. "First of all, that was a year ago and I do think that as women, as professionals, when you get to step back and analyze it and think about things, you realize that there are certain circumstances that aren't normal when you're all put together and it's a pressure cooker and it's hot and we're tired and there's no break and we haven't eaten and I think when you step away from it, you do realize that this person overreacted, I overreacted, it's a lot."
Shannon Beador's Legal Troubles
Shannon Beador might bring the most intriguing storyline to RHOC season 18 with her recent legal troubles. On September 16, Shannon made headlines after she drove her car into a residential property in Newport Beach, CA and "clipped" the house, per law enforcement sources. She then reportedly drove back on the road and parked her car in the middle of the street before getting out of the car with her dog. Authorities arrived at the scene shortly after, and Shannon "tried to act like she was taking a walk," sources told TMZ. But the police knew she was at fault because she "appeared wasted," according to the report.
Shannon was taken into custody and booked for two misdemeanors, a DUI and a hit-and-run after her arrest, according to TMZ. She was reportedly cited and released without bond. The car she was driving was also reportedly seized by the police to be used in an investigation. The incident occurred over a week after the season 17 reunion filmed on September 7.
After the arrest, Shannon shared a public apology in a statement released by her lawyer, Michael Fell. "I spent quite a bit of time with Shannon yesterday. She is extremely apologetic and remorseful," he said on September 18. "We will be awaiting the official information on this case as it becomes available, and Shannon is prepared to accept full responsibility for her actions."