No one is immune to mental health struggles, even celebs. And while some have hidden their pain, other stars have bravely confronted their past issues with anxiety, depression, self-love, body acceptance, and other personal struggles that were once too taboo to address. While healing can be tough, it's amazing to think about how many people these celebs have helped by sharing their own mental health journeys.
Selena Gomez has been amazingly candid about living with bipolar disorder. She tackled the topic head-on in her documentary Selena Gomez: My Mind & Me, which is set for release on Nov. 4 via Apple TV+. "How do I learn how to breathe my own breath again? asks during the clip from the film, which not only details her mental health history but also her fight against the autoimmune disorder.
Stars like Adele and Justin Bieber have also been candid about how they've navigated their way through tough times. Learn more about the celebs who've opened up about their experiences with mental health, below.
Trigger Warning: This post highlights public figures who have openly discussed their struggles with anxiety, depression, and suicidal ideation.
Selena Gomez
Selena first opened up about life with bipolar disorder in Apr. 2020 while in conversation with Miley Cyrus. She talked about what a relief getting diagnosed was, saying, "When I know more information it actually helps me; it doesn't scare me once I know it. And I think people get scared of that.. I'm from Texas, where it's not known to talk about your mental health. You've got to seem cool."
She reflected on how much she's grown in the past years during an Apr. 2022 interview with Good Morning America. "[I'm] probably the happiest I've ever been," she said, adding "I can't believe I am where I am mentally, just because of how I took the necessary steps in order to kind of remove myself from that because it's just not normal. I really want people to be understood and seen and heard. It's okay to not be okay."
Selena now works with her own multimedia mental wellness company Wondermind, which bills itself as the "World's First Mental Fitness Ecosystem." The business, which was co-founded by entrepreneur Daniella Pierson and Selena's mother Mandy Teefey, connects anyone to free resources to help them work on their "mental fitness."
Chrissy Teigen
Chrissy Teigen shared her experience with post-partum depression in a poignant 2017 essay with Glamour. In it, she reminded women the world-over they're not alone in their struggles.
"I also just didn't think it could happen to me," she wrote. "I have a great life. I have all the help I could need: John [Legend], my mother (who lives with us), a nanny. But postpartum does not discriminate. I couldn't control it. And that's part of the reason it took me so long to speak up: I felt selfish, icky, and weird saying aloud that I'm struggling. Sometimes I still do."
She would revisit the feeling once more in Oct. 2020 after losing son Jack at 20 weeks in-utero. Two years later, Chrissy revealed she actually underwent an abortion after learning her son could not survive outside of the womb.
Acknowledging the realities of reproductive health and mental illness during a Sep. 2022 TV summit. She told attendees, "I told the world we had a miscarriage, the world agreed we had a miscarriage, all the headlines said it was a miscarriage. And I became really frustrated that I didn't, in the first place, say what it was, and I felt silly that it had taken me over a year to actually understand that we had had an abortion."
Demi Lovato
Demi came to a real understanding of herself after learning she was bipolar back in 2011, following struggles with eating disorders and substance abuse. "I went through several years of pain and suffering, and I want to be able to help people and help try to prevent that suffering from happening," she told People in 2015.
The singer/actress stressed how "important" it is "that people no longer look at mental illness as something taboo to talk about." "It's something that's extremely common, one in five adults has a mental illness, so basically everyone is essentially connected to this problem and this epidemic," Demi added. "The problem with mental illness is people don't look at it as a physical illness. When you think about it, the brain is actually the most complex organ in your body. We need to treat it like a physical illness and take it seriously."
Demi also works to spread awareness about mental health and addiction as the celebrity spokesperson for Be Vocal: Speak Up for Mental Health campaign.
Lady Gaga
Lady Gaga revealed she lives with post-traumatic stress disorder (PTSD) in a 2016 segment on the Today show. She also shared her experience as a sexual assault survivor after being raped at 19. "My own trauma in my life has helped me to understand the trauma of others," the Star Is Born talent explained.
Around the same time, the songstress talked about her issues with The Mirror, admitting, "When my career took off, I don't remember anything at all. It's like I'm traumatized. I needed time to recalibrate my soul. I definitely look after my well-being…I openly admit to having battled depression and anxiety and I think a lot of people do. I think it's better when we all say: 'Cheers!' and 'fess up to it.'"
Lady Gaga created the Born This Way Foundation in 2011 alongside mom Cynthia Germanotta. The non-profit is "committed to supporting the wellness of young people and working with them to make the world kinder and braver" via mental health advocacy and advocating for LGBTQ rights.
Meghan Markle
During her emotional interview with
Oprah Winfrey
in March 2021,
Meghan Markle
revealed that her mental health suffered greatly during her time as a senior member of the Royal Family. The Duchess of Sussex, 39, spoke candidly about grappling with suicidal ideation, and told Oprah that she considered taking her own life while pregnant with her first child,
Archie Harrison Mountbatten-Windsor
.
"I was really ashamed to say it at the time and ashamed to have to admit it to [Prince] Harry, especially, because I know how much loss he's suffered," Meghan shared with Oprah. "But I knew that if I didn't say it, that I would do it. I just didn't want to be alive anymore. And that was very clear and real and frightening. That was a real and constant thought."
Meghan confessed to Oprah that she thought, by taking her own life, she would "make it easier for everybody." The Duchess of Sussex, now pregnant with her and Prince Harry's second child, due this summer, revealed that thoughts of self-harm were "very clear and scary. I didn't even know who to turn to in that. One of the people who I reached out to, who's continued to be a friend and confidant, was one of my husband's mom's best friends — one of [Princess] Diana's best friends. Who else could understand what it's like to be inside?"
In January 2020, Prince Harry and Meghan Markle made the decision to take a step back as senior members of the Royal Family. They have since relocated to Montecito, CA, and are growing their family and their business ventures, while also highlighting the conversation around mental health.
Prince Harry
One of Prince Harry's latest ventures since stepping back from royal life is focusing on how mental health is broadly discussed. The royal, 36, and Oprah Winfrey launched a series
The Me You Can't See
, which follows individual lived experiences of people from across the globe who are struggling with their mental health. For Prince Harry, the Duke of Sussex has grown more and more open about the trauma he experienced as a pre-teen, losing his mother, Princess Diana, and mourning her in front of the world.
"We all know what the British press can be like. It was destroying my mental health. It was toxic," Prince Harry told James Corden during their February 2021 interview. Following their conversation, Harry's become more vocal about how much his mental health was impacted by royal life.
"The biggest issue for me was that being born into it you inherit the risk, you inherit the risk that comes with it — you inherit every element of it without choice, and because of the way that the UK media are, they feel an ownership over you," he explained in May 2021. "Once I started doing therapy, it was like the bubble was burst," he further shared.
Naomi Osaka
Since winning her maiden Grand Slam title at the 2018 US Open,
Naomi Osaka
has come into her platform and used her voice for vital issues such as social justice and more. But during the 2021 French Open, Roland Garros, the 23-year-old tennis star made an announcement that she would not engage with press following her matches, citing her mental health. The decision caused a ripple effect throughout the tournament, and Naomi was fined $15,000 for not talking to press after her first round victory. Subsequently, Naomi made the decision to withdraw from the tournament and take time to focus on her mental health and well-being.
"I think now the best thing for the tournament, the other players and my well-being is that I withdraw so that everyone can get back to focusing on the tennis going on in Paris," Naomi wrote in her May 31 announcement. Although Naomi admitted that her initial message "could have been clearer," she reiterated that she "would never trivialize mental health or use the term lightly."
The celebrated athlete revealed that she has "suffered long bouts of depression" since winning the US Open in 2018, and has had a "really hard time coping" with continued pressure and scrutiny. Naomi shared that she doesn't consider herself "a natural public speaker," and often struggles with "huge waves of anxiety" before speaking to press. "So here in Paris I was already feeling vulnerable and anxious so I thought it was better to exercise self‑care and skip the press conferences. I announced it preemptively because I do feel like the rules are quite outdated in parts and I wanted to highlight that." Moving forward, Naomi decided to put her mental health and well-being first, saying that she'd "take some time away from the court" to give herself some space and peace.
Mary J. Blige
In the first trailer for
Mary J. Blige
's documentary feature,
Mary J. Blige's My Life
, the Grammy-winning artist confessed that her careers lows completely impacted her mental health. "The only thing I think that kept us guided was the music," she said of what her music was able to do, in terms of helping her through her struggle. "It just saved you."
The documentary also highlights the making of her 1994 album My Life. "My Life is probably my darkest album at one of the darkest times I've had," she explained in the debut trailer. "Most of the times I was depressed and didn't want to live." Now, Mary J. Blige has restored her positivity, and is bravely using her platform to share her experience.
Willow Smith
Willow Smith bravely confessed on her Red Table Talk show that she had an "experience" with "extreme anxiety." The singer spoke out during the Dec. 22, 2020 episode of the Facebook Watch series, which she co-hosts with her mom Jada Pinkett Smith and grandmother Adrienne Banfield-Norris.
"I couldn't talk," Willow admitted, before revealing how she coped with the situation. "I had to just cocoon and just be with myself for a moment. And that was so important because it would have been more intense if I was looking to you [Mom] to be like, 'No, help me.' And then when I was ready, [I opened] the cocoon."
It's not the first time that Willow has spoken about her mental health struggle. During a May 2018 Red Table Talk episode, she revealed that when she was just 9-years-old she turned to self-harm to cope after the release of her first single, "Whip My Hair."
"I honestly feel like I lost my sanity at one point," she told her mom and grandmother. "It was after that whole 'Whip My Hair' thing and I had just stopped doing singing lessons and I was kind of in this grey area of who am I? Do I have a purpose? Is there anything that I can do aside from this?"
She later confessed that she started secretly cutting herself on her "wrist." "After the tour and the promotion and all of that…they wanted me to finish my album and I was just like…I'm not going to do that. And then, after all of that kind of settled down and it was a kind of lull, I was just listening to a lot of dark music and it was just so crazy. And I was plunged into this black hole and I was cutting myself."
"I never talk about it because it was such a short weird point in my life…" she went on to say. "I honestly felt like I was experiencing such emotional pain but my physical circumstances weren't reflecting that."
Adele
Despite being extremely private, Adele recently revealed that she took a deep dive into her own soul through a powerful book — Untamed by Glennon Doyle. The Grammy-winning singer, who's currently on an inspiring weight loss journey, admitted she learned that she's the controller of her own happiness.
"If you're ready – this book will shake your brain and make your soul scream. I am so ready for myself after reading this book!" Adele wrote in the caption of an Instagram post, which featured the cover of Untamed. "It's as if I just flew into my body for the very first time. Whew! Anyone who has any kind of capacity to truly let go and give into yourself with any kind of desire to hold on for dear life – Do it. Read it. Live it. Practice it," she continued, explaining, "I never knew that I am solely responsible for my own joy, happiness and freedom!! Who knew our own liberation liberates those around us? Cause I didn't!! I thought we were meant to be stressed and disheveled, confused and selfless like a Disney character!"
Ashley Tisdale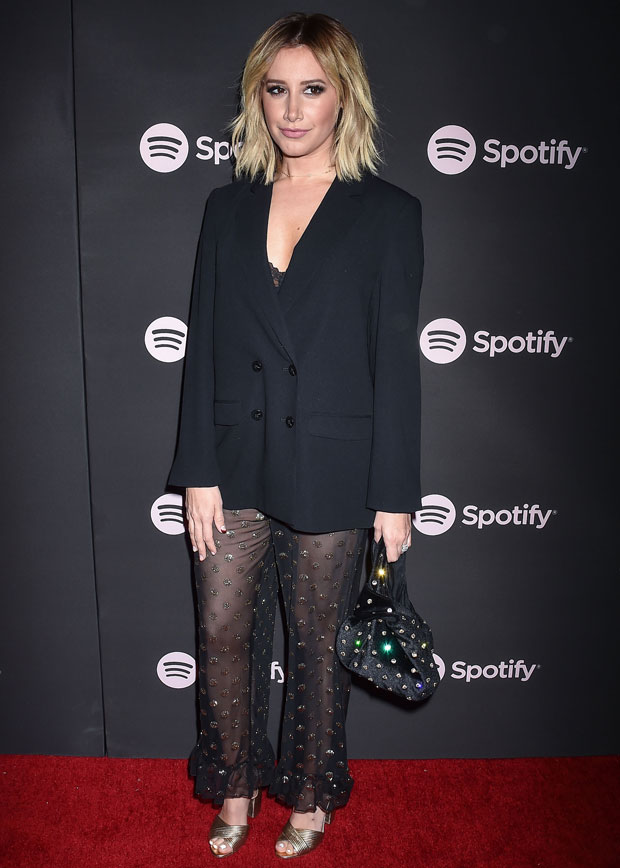 Ashely Tisdale has opened up about mental health on a number of occasions throughout the COVID-19 pandemic. In a candid Instagram post on August 17, the High School Musical alum revealed that a breast augmentation surgery led to a lot of health challenges. "Hey guys, this is probably the most personal post I've ever shared. As you know, I've been very open about my mental health journey and feel that this is equally important," she began in a caption alongside a photo of herself on the beach.
"Years ago I underwent breast enhancement surgery. Prior to the surgery, I constantly felt my body was less than, and thought this change would make me feel more whole and more secure about myself. And for a short period of time … it did. But little by little I began struggling with minor health issues that just were not adding up — food sensitivities as well as gut issues (full story on @frenshe) that I thought could be caused by my implants," Ashley explained, admitting, "So, last winter I decided to undergo implant removal."
"This journey has been one of growth, self discovery, self acceptance and most importantly self-love," Ashley continued, noting that her beach photo "was two months after my explant surgery and I think you can tell just how happy I am to finally be fully me." She explained, "Over the years I've met with many holistic and non-holistic doctors and learned the importance of living a non-toxic life… I can't say I'm the proudest of the choices I made in the past but I don't regret it because it got me here today."
Justin Bieber
Justin Bieber fans will know that the singer has admittedly struggled with his mental health. In a lengthy Instagram post in September of 2019, the "Stuck With U" singer opened up about a past of "doing pretty heavy drugs," "abusing all of my relationships" and being "disrespectful to women" over the years.
"It's hard to get out of bed in the morning with the right attitude when you are overwhelmed with your life, your past, job, responsibilities, emotions, your family, finances, your relationships," Justin wrote at the time. "When it feels like there's trouble after trouble after trouble. You start foreseeing the day through lenses of 'dread' and anticipate another bad day. A cycle of feeling disappointment after disappointment. Sometimes it can even get to the point where you don't even want to live anymore," he admitted. "Where you feel like it's never going to change. I can fully sympathize with you. I could not change my mindset."
In February of 2020, the singer was candid about his battles with addiction and mental health challenges in his YouTube docuseries Justin Bieber: Seasons. After years of struggles with mental health, Justin has admitted that religion, love, music and his close circle of friends and family have helped in his healing process.
Paris Jackson
Paris Jackson was an open book in her new Facebook Watch series, Unfiltered: Paris Jackson & Gabriel Glenn — the singer's now ex-boyfriend. In the 2020 series, Paris admitted that she fell into a depression following the loss of her dad, Michael Jackson, in 2009. "For me, my depression comes in waves, so even though the lows are unbearably low, I would still rather that than nothing. Pain is way better than just numb because at least you're feeling something," Paris said about self-harm during the series, adding that she attempted suicide "many times," and was later sent to boarding school in Utah. "I learned a lot about myself. The problems that I went there with got fixed, but I left with way more than I came in with," she said. "I'm trying to just be content. … Self-love sh-t is hard."
If you or someone you know is struggling with their mental health, consider reaching out to the​ ​National Alliance on Mental Illness and​ ​the Mental Health Coalition​. For those seeking further resources, Teen Line can be reached​ ​here​.