George Clooney and his wife, Amal Clooney, attended their foundation's Albie Awards together on Thursday, September 29, and she looked elegant in a white Versace gown.
The attorney, 45, posed for pictures alongside her husband, 62, throughout the night. He donned a classic tuxedo for the evening, while she wore her hair down in a simple style that accented her ethereal dress. Amal also paired the full look with a matching white clutch.
The event, hosted by the Clooney Foundation for Justice, was held at New York City's Public Library, and multiple celebrities attended including Matt Damon and his wife, Luciana Barroso, Anne Hathaway and Meryl Streep.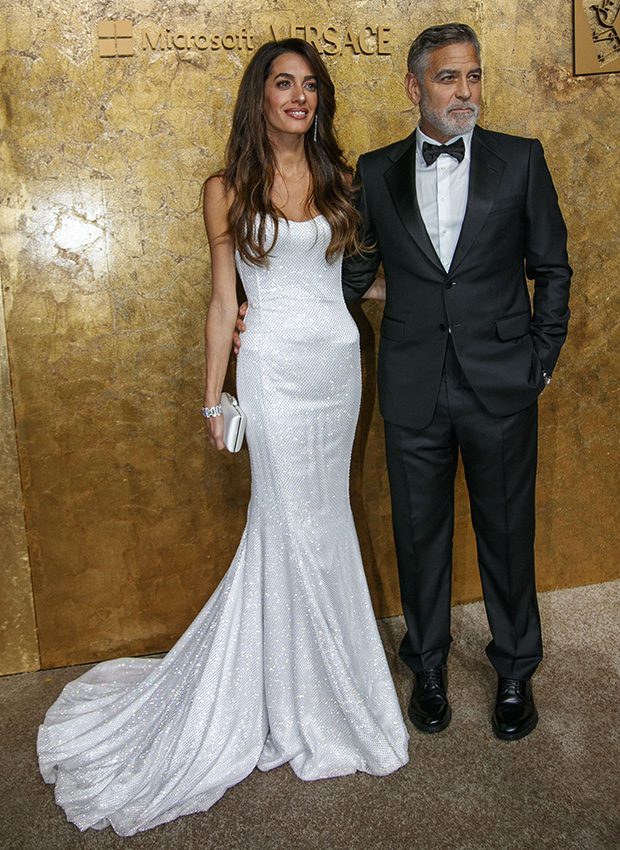 Amal is known for her sense of style. Just one day before the Albie Awards gala, the human rights lawyer was seen wearing a green sleeveless dress at the UN headquarters in the Big Apple.
George has always known his wife had a flair for fashion, as he previously pointed out during a 2015 interview with Entertainment Tonight.
"Since the day I met her, she's always had this insanely … it's eccentric, but it's fun, [her] sense of fashion," the Descendants actor told the outlet at the time. "She was teaching at Columbia, and she's still like, 'I want to wear that dress.' It's crazy. It has been sort of fascinating to watch, because she has such great taste."
When she's not rocking a stunning outfit for a night out, Amal occasionally wears traditional court robes, which George pointed out is always "very impressive" to see her in.
"I'm always very proud of her when I see her speaking with her robe on," the Ocean's Eleven star added. "It's a nice-looking robe, [but] they could spice it up a little bit," George joked. Apart from her style, though, George loves Amal for the "amazing" person that she is.
"And she's caring," he added. "And she also happens to be one of the smartest people I've ever met. And she's got a great sense of humor. There's a number of reasons why."
The couple share two children together: twins Alexander and Ella. For Amal's part, the mother of two previously opened up about how much she loves being a parent with George during a 2022 interview with Time.
"Marriage has been wonderful," she gushed. "I have in my husband a partner who is incredibly inspirational and supportive, and we have a home filled with love and laughter. … It is a joy beyond anything I could ever have imagined [being a mom]. I feel so lucky to have found a great love in my life, and to be a mother — this is how I get my balance."