Politics has always been a topic of conversation in the Anna Musky-Goldwyn's family — and we aren't just talking about her dad Tony Goldwyn's iconic role on Scandal. A screenwriter in her own right, Anna can add activist to her resume as the co-founder of millennial and Gen-Z targeted site Political Playlist. The non-partisan platform has a mission to "inspire" younger generations to connect with government and members of congress in an approachable way.
"The real goal [of Political Playlist] is to fill holes that younger people might feel when it comes to connecting to the political system. I think a lot of them have the impression that politics is 'somewhere up here'," Anna told HollywoodLife in an EXCLUSIVE interview alongside dad Tony. "They feel quite disconnected from it. And what we're trying to show is that politics is part of your life whether you like it or not. All roads, no matter what industry you're in or what views you have, lead back to politics," she explains.
The site curates a "political playlist" for users through a short questionnaire that involves identifying themselves as a Democrat, Republican or "a mix" of both, regions of interest, and various issues like education or healthcare. Upon completion, a "playlist" of young politicians appears with key information about these leaders and their policies.
Both Anna and Tony point to their experience at the 2008 Democratic National Convention — which was just months before Barack Obama's historic win — for bonding them over politics. "It was a really inspiring time. I felt like a good dad kind of as it was Anna's first time voting, and to turn her on to politics," Tony shared. "I saw her eyes light up at that event and that's how it evolved for me," he adds, reflecting on his own upbringing.
"I grew up with my parents very politically engaged, although they weren't advocates in any way. They just liked screaming at the television set," he hilariously adds, noting his profile "really rose" during Scandal — creating more opportunities to get involved. "Particularly playing the president, I realized I could have a real impact into the 2016 election cycle. That was when I got really involved in politics," he explains.
At the time, Anna was an undergraduate student at UCLA. "It was at the beginning of college I became very aware of politics. 2008 was my first presidential election and my dad had taken me to the Democratic Convention, which was just a whirlwind," she remembers. "I felt engaged, but then it was really after I graduated from college that I started to realize how important politics was and specifically started to become aware of how disengaged so many people were."
Tony's Scandal co-stars Bellamy Young and Katie Lowes have also been featured on the site — and Kerry Washington is soon to follow. "She's been a big, real booster," Tony says, as Anna teases an upcoming "project" in the works. "Kerry has been very helpful with amplification. And she's actually one of the projects we have in the work is in the works as we plan to start a peer to peer networking concept," she explained.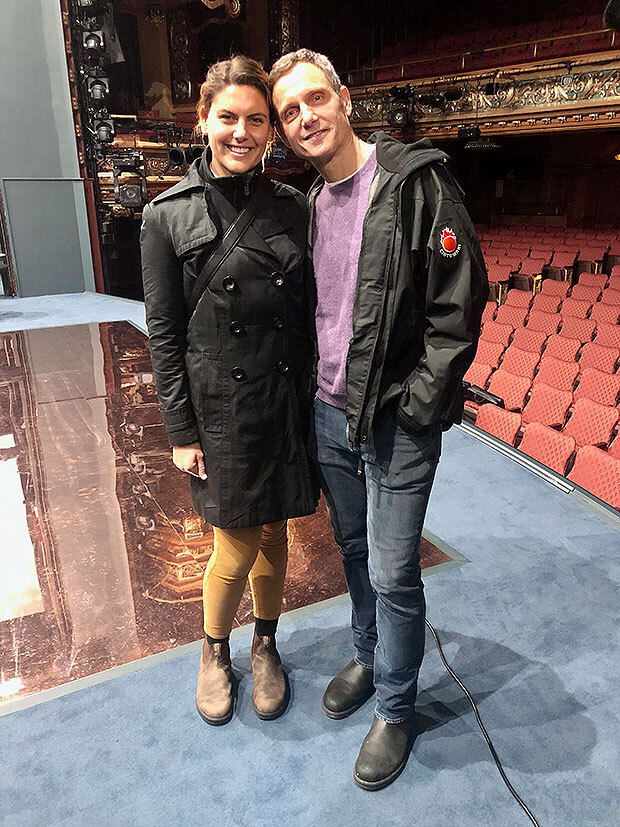 So far, Political Playlist has been a hit: the site earned its very first Webby Award nomination in the "Websites and Mobile Sites, Government & Civil Innovation" category. "It was very bizarre!… You do that thing, you're like, we're not going to get it…then when we got nominated, I was obviously thrilled!" Anna shared excitedly. The competition was steep, too, with other nominees including the White House, state run websites and a platform from Steve Jobs' widow Laurene Powell Jobs.
"We have my dad! You know, he's our, our advisory board," she sweetly adds. "The video that my dad recorded for us of him voting for us for the web is was definitely one of the top political playlist content hits, and was much appreciated. But on a more serious note I think that [the nomination]…was affirming..and will be very helpful in continuing the mission that we're on."
And Anna has her dad cheering her the entire way. "I flipped out, I couldn't believe it!" Tony said in reaction to the honor. "Political playlist has come up with this ingenious way to disseminate digestible information in a very fun, attractive, and time efficient manner which I think is really, really valuable and exciting. So, yeah, I'm very proud," he added.
Click to Subscribe to Get Our Free HollywoodLife Daily Newsletter

to get the hottest celeb news.