Run, now streaming on Hulu, is a new suspense thriller that will leave you guessing until the very moment. The movie follows the complicated relationship between Chloe (Kiera Allen) and her mother, Diane (Sarah Paulson). Diane has raised Chloe in total isolation, controlling every single move she's made. Over the course of the film, Chloe fights to break free from her mother's grasp before it's too late.
HollywoodLife talked EXCLUSIVELY with Kiera, who is making her feature film debut, about all things Run, which is the first major thriller to star a wheelchair user in 70 years. Kiera is a force to be reckoned with and proves she's one to watch in the years to come. Kiera revealed her reaction to the movie's last moments where Chloe turns the tables on Diane when she goes to visit her mother in prison and so much more.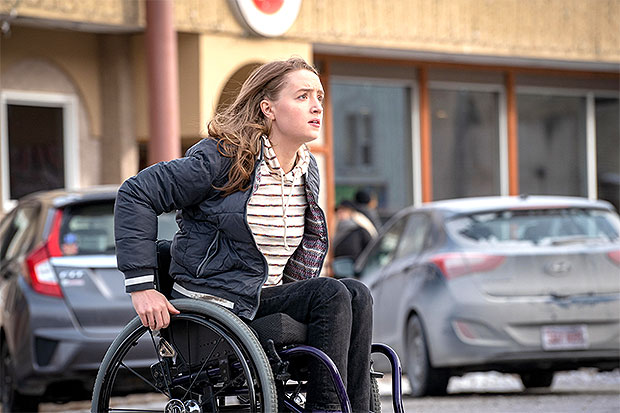 This is your feature film debut. What was your journey with acting before this point?
Kiera Allen: Before this, I was mostly working in theater. I worked with a wonderful off-Broadway theatre company called TBTB, or Theater Breaking Through Barriers. I worked with the Royal Court, Cape Cod Theatre Project, and a bunch of really wonderful theater companies in and around New York. I was training in New York as well and going to school. I'm in college right now for creative writing, so I was kind of honing my craft in New York. When this audition opportunity came along, my manager submitted me for it, and I got a self-tape audition. Four rounds of auditions and three months later, I was told that I got the part and flew up to Winnipeg and spent a few months in Canada. And the rest is history.
What was it about the role of Chloe that really stood out to you?
Kiera Allen: The character was immediately so vivid for me, just on the page. I felt like I knew her from the first page that she was on. She is just a strongly defined character, but so multi-dimensional at the same time. She was not reduced to any one part of her identity or her personality. She was just given the freedom on the page to be so many things and so exciting in so many different ways. She's a burgeoning engineer. She's a young girl, but she's also got this incredibly tender heart and this complicated relationship with her mother and the world around her. The script just gave her so much space to be all of those things, to go through all of those highs and lows, and to really just be so expansive in who she was and how she went through this journey, which was so exciting for me as an actor. It's really, really rare that you see a character that allows you to paint with so many colors. So I immediately felt attached to this character and immediately felt that there was so much that I want to bring to this. There are so many reasons why I want to do this. I'm so compelled by this story, and I probably worked harder on that first self-tape than I ever have on any other audition. I just spent the whole weekend locked in my room, writing notes, rereading the scenes because I was so excited for the opportunity to bring her to life, even if it was just for that one audition.
The entire film focuses on Chloe and Diane's relationship. What was your first impression of Sarah Paulson?
Kiera Allen: I was certainly a fan of Sarah's work before I met her, so I was definitely a little intimidated. I'd seen all of her incredible performances in The People Vs. O.J. Simpson, in Martha, Marcy, May, Marlene, Blue Jay, and all this incredible work that she's done. I was in the middle of the new season of American Horror Story at the time, American Horror Story: Apocalypse, when I got the news that she had been cast in the role and that they wanted to bring me out for a chemistry read with her, which was my final audition. So when I first met her, I was definitely pretty nervous just because of her monumental talent because she was someone who I admired so much. But she immediately put me at ease. Even just in the chemistry read, which is like a fairly high-pressure situation because it's technically still an audition, she immediately made me feel so comfortable, so at home, and supported me from the off. I was lucky to have some time with her before we started shooting. We went out to eat a couple of times and just got to know each other. I was lucky that by the time we started shooting, we had this friendship and this bond. To be able to work opposite an actor like that is just every actor's dream. She truly is every actor's dream that it makes your job so easy when the person opposite you is giving you so much. She is really such a powerhouse and also such a kind person. To have that kind of support, but also to have such a formidable scene partner, was really a life-changing experience.
The roof scene had me biting my fingernails the entire time. Talk to me about what it was like filming that scene.
Kiera Allen: Even before we got on set, we knew that this was going to be a really, really important part of the film and an important part of her journey. It was also just something we hoped that audiences would really be invested in and have that sense of pulse-pounding intensity. We talked about it a lot in advance, even during the audition process, because we wanted to make it look as cool as possible. You have to have it set up where people would have that reaction of really having fear for this character. But it was all done very safely, not to worry. Actually, on my first day of shooting I got to see my stunt double doing her portions of this. So it was very cool for my first day of shooting any feature film to be able to see someone who from the back look just like me, crawling across the roof of a two-story house. It's just something you don't get to experience every day as an actor. That was the first day, and then on the last day, I shot my portions of the roof scene, which were shot on a set where they recreated the roof of the house. Everything was blue screen, and I had a harness. It was all very safe. I had lots of support, and then I just crawled across the roof pretty much all night. It was great fun and definitely something to get your adrenaline pumping.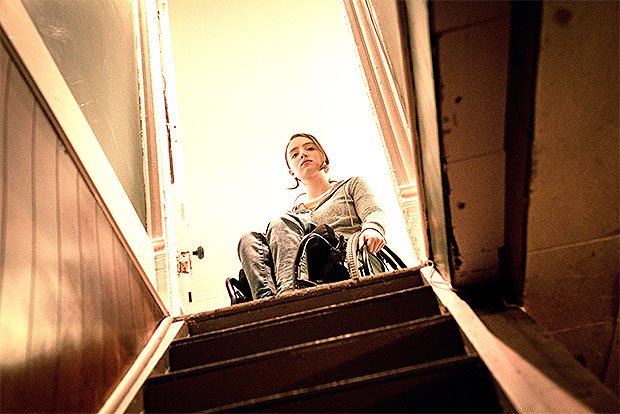 In the film, Diane locks Chloe in the basement. Chloe is trying her hardest to get out of her mother's clutches and locks herself in another room in the basement. She ends up drinking that toxic liquid that she knows could be fatal. I wanted to ask, was there a part of Chloe who was willing to die before she left her mother do something else to her?
Kiera Allen: This is something that Aneesh [Chaganty] and I talked about a lot before shooting that scene. It is a very intense moment, and it's a very, very strong decision that she makes and a huge risk that she takes. In my view, Chloe does not want to die, but that choice is made out of a fierce desire for survival. She feels that the only way she's going to be able to live her life and get free of her mother is to risk death. She's gutsy. That's one of the things I love about this character. She's so gutsy. Even though she's terrified, she makes that decision because that's what she needs to do to get out, to live the life that she wants to live. It was really, really heartbreaking to shoot that scene. I remember when they were setting the camera up, we did it from a few different angles, so I shot it a couple of times. I remember just sitting there on the floor of this dark basement closet and weeping, just tears pouring down my eyes in between takes because what the character was going through was so intense and so heartbreaking. I definitely felt for the character in a very real way in that moment.
Obviously, we need to talk about the ending when Chloe turns the tables on Diane when she goes to visit a dying Diane in prison. Chloe pulling out those toxic pills her mother was going to give her all those years ago and telling her to open her mouth sent chills down my spine. What was your reaction when you read the ending?
Kiera Allen: That is certainly a moment. What I love about that moment is that it is, in my experience reading the script, you feel like you've already seen the twist. You think the twist is that she still has a relationship with her mother, and she still loves her mother. And then it goes one step further. I think that's one of the things I really love about this movie is that it repeatedly put you in a position where you feel like you've got it figured out, and you feel like you know the twist, and then it pushes it further. I remember reading that final line. It just leaves you with this feeling of shock. It barely gives you time to absorb it before the movie is over. I feel like I leave the movie with this big adrenaline rush from that. That was a really wild twist and really cool to shoot as well, especially knowing that was going to be the end of the movie. I knew going into that day that this is what I'm going to leave people with. It was definitely an intense day of shooting in a lot of ways, especially because we shot that final scene I think more than halfway into shooting, so like the traumatic experiences that Chloe had had at this point I lived through to shoot, so I had these very real, intense memories to draw on and overcome. To be able to speak with Chloe's mother with love, but then to be able to flip and turn the tables like that was very satisfying, especially knowing that people aren't going to see it coming.
It's been a very long time since we've seen a disabled person lead a thriller for an American studio. How does it feel to be at the forefront of making history for disability representation in film?
Kiera Allen: It's extremely exciting to be a part of this moment, a long-overdue moment for this kind of representation for the disability community. I feel extremely lucky that it's in this film. This is such a special, wonderful film and such a rich part that is written so differently from so many parts I've seen written for disabled characters. She gets to be a full person. Her disability is a part of her identity, but it doesn't define her identity. It doesn't define her journey. Nor is it reduced or hidden. It's just a part of who she is. And that's how I feel about myself. Disability is not who I am. It's just one part of who I am. So to be able to play a character that reflects that, in so many ways, is so cool. I feel so grateful to have worked with this team on this kind of project. I'm really excited for people to see this because I know so many amazing disabled actors who've done such incredible work, but it just hasn't been seen at this level of exposure before. So for a mainstream audience to finally see that is very, very cool. And I hope it's the first of many.