Jamie Foxx Shares Rare NYE Selfie With Daughters After Spending Christmas With Katie Holmes
Jamie Foxx made the most of his trip to Miami over the holidays! After spending Christmas with Katie Holmes, he bonded with his two daughters Corinne, 24, and Annalise, 9, on a lavish yacht in Miami!
Jamie Foxx, 51, managed to spend time with his daughters and his girlfriend over the busy holiday! After spending Christmas with Katie Holmes, 40, the Robin Hood actor rang in the New Year with his daughters, Annalise, 9, and Corinne, 24. The father-daughter trio spent New Year's Eve on a lavish boat in Miami, where he sipped on champagne, along with Corinne.
Foxx shared a sweet photo with his girls on Instagram, Wednesday morning. "No better way then to spend my New Years with my babies!!! Happy new year to errrrrbody!!!" he captioned the family snap, where he sat in between his daughters. "Live and love family @corinnefoxx you are amazing!!! I love u! And Anelise you are incredible!!! I love u! #daddydaughtertime". Corinne also shared the same image to her Instagram account, writing, "Perfect start #2019″.
The Foxx family time came after the actor's romantic vacation with Holmes in Miami. The usually private couple was photographed riding jet skis together on December 29. One day earlier, Foxx and Holmes were spotted relaxing on a private yacht, where they were photographed engaging in some very rare PDA… k-i-s-s-i-n-g. Before their Miami getaway, the pair celebrated Holmes' 40th birthday in New York City together.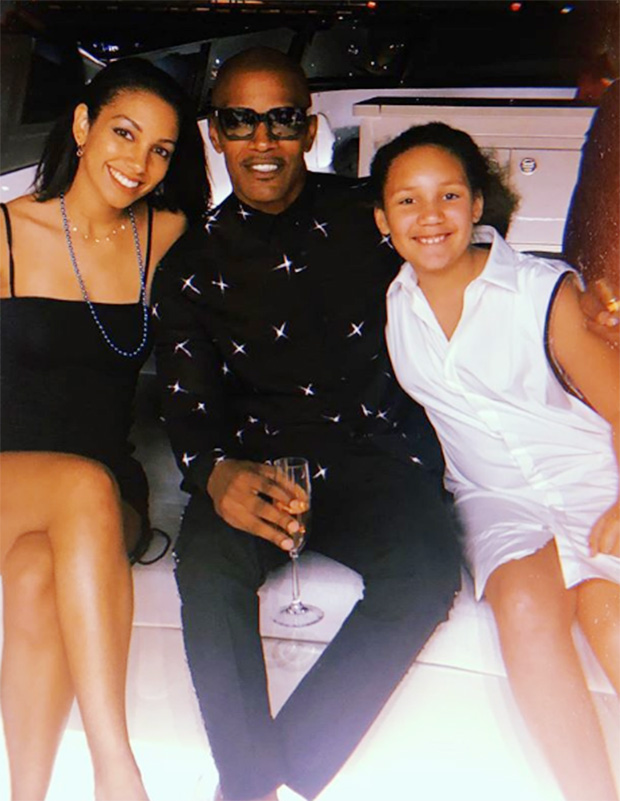 Jamie Foxx spends New Year's Eve with daughters, Corinne and Annalise on a boat in Miami.
Meanwhile, Holmes rang in 2019 with her daughter, Suri Cruise, 12, on a ski trip. "Happy New Year!" the actress captioned a black and white Instagram photo on Monday, December 31. The snowy snap showed her on skis with her daughter (who she shares with with ex-husband Tom Cruise), along with two of Suri's friends.
Holmes and Foxx began dating in secret in 2013, when they were spotted dancing together in the Hamptons. After years of speculation, the couple went public with their romance in 2017. All of a sudden, Foxx and Holmes began turning up together randomly — after an alleged clause in her divorce contract with Cruise ended. The clause reportedly stated that Holmes couldn't be seen with another man for a certain amount of time. That would make sense for the four quiet years the world spent wondering who she was dating…