Macy's Thanksgiving Day Parade: See All The Amazing Highlights From The 2018 Extravaganza
Happy Turkey Day! The 92nd annual Macy's Thanksgiving Day Parade filled the chilly streets of New York City. With so many floats, balloons and performances, so much went down so see all the wild moments.
Though the temperatures in Manhattan were below freezing, the sun came out to shine down on the 2018 Macy's Thanksgiving Day parade. With 16 giant character balloons, 26 brightly decorated floats, 1,000 clowns, 12 marching bands (totally 2,989 musicians) and so many performances, the Nov. 22 event was one for the history books! Quite literally — at 19 degrees Fahrenheit, this was indeed the coldest Macy's Thanksgiving Day parade on record!
This year's event was jammed packed with stars. Fifth Harmony's Ally Brooke was there, as was Ashley Tisdale, Bad Bunny, Bazzi, Diana Ross and Family, Jack And Jack, Martina McBride, Pentatonix, Rita Ora, Sugarland, and John Legend. They all got the honor to ride throughout New York City on the colorful floats, but when it came to the parade's "biggest" stars, one had to look up to the sky. After all, it wouldn't be the Macy's Thanksgiving parade without the giant balloons.
There were a handful of new balloons in this year's parade. Fleck, Bjorn, Jojo and Hugg, a quartet of elves from the new Netflix film The Christmas Chronicles made their debut, as did Goku from the Dragon Ball series. (He looked like he was hoping to go Super Saiyan on some Thanksgiving turkey after the parade was done.) Little Cloud, first created over 16 years ago by the FriendsWithYou art collaboration, brought a little modern art to this classic event. Fresh from the famous Macy's holiday windows came Sunny the Snowpal, aka a "cool cosmonaut" who comes to the rescue of her friend Fox when Santa's sleigh breaks down, per Macy's official site.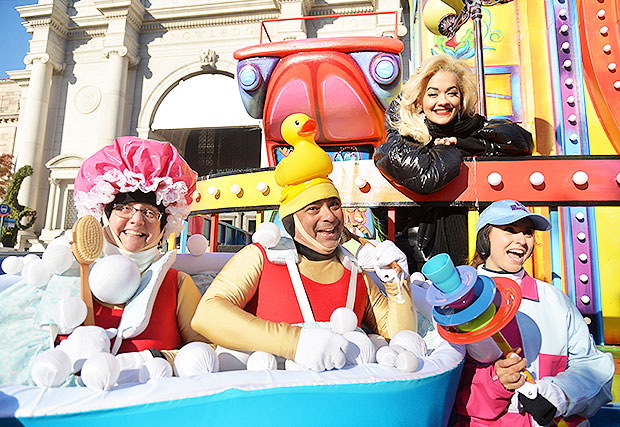 Classic characters like Charlie Brown (with kite) the Sinclair Oil Corporation's Dino, the Pillsbury Doughboy, Pikachu, Olaf from Frozen, Ronald McDonald (making its 25th appearance in the Parade) a holiday-themed SpongeBob SquarePants, and the cast from the Trolls movie were among balloons parading throughout the Big Apple. Though, almost making it the "Frozen Apple," there were fears that the balloons weren't going to fly.
Along with characters in the sky, the parade featured many wild characters on vividly colored floats. Rise of the Teenage Mutant Ninja Turtles will give "shellraisers" something to scream about. 1-2-3 Sesame Street featured all your favorites. The parade also featured a giant advent calendar, a replica of Mount Rushmore, a gold-trimmed Marion-Carole Showboat, and, of course, Santa's sleigh. If you missed something, don't worry. The gallery above has all the highlights. Happy Thanksgiving!