Justin Bieber & Hailey Baldwin Skip Out On Halloween & Attend Church Together Instead — Pic
Why go to a costume party when you can go to a church service instead? There were no tricks or treats for Hailey and Justin this year, who celebrated Halloween differently than most celebs. Take a look!
No couple costumes for these two! That's because Hailey Baldwin, 21, and Justin Bieber, 24, would rather be worshipping! The newylweds went to an Oct. 31 church service in casual clothing, unlike most other A-listers who hit the streets in crazy costumes. The "Baby" singer wore a gray tee and cuffed tan pants, his newly buzzed hair hidden beneath a backwards baseball cap, while his model wife paired an all black outfit with a striped blazer. And while they may have spent the spooky holiday a little different than most, to each their own! We bet they had an amazing night at service.
Besides, Hailey has sported so many Halloween costumes over the years, that it was probably nice to take a break. Who could forget the time she wore a pink Barbie leotard with a matching headband and white leg warmers? Too cute! She has also dressed up as Sandy from Grease, a gyspy and a schoolgirl — complete with broken glasses. She even stepped out in a group costume with Kendall Jenner, 22, and Justine Skye, 23, once. She was Bubbles, the blue Powerpuff Girl, but heated up the look with a crop top, a mini skirt and thigh high stockings.
So while we'd be lying if we said we weren't disappointed not to see Hailey and Justin in couple costumes this year, we understand why they'd want to spend the night their own way.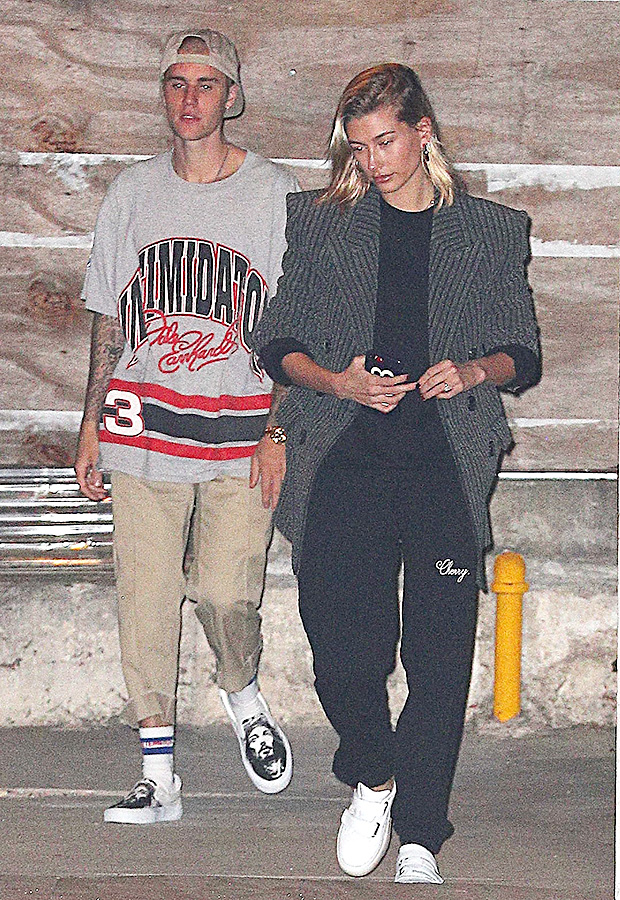 Besides, it's not like this comes as a shock or anything! This isn't the first time that these two have headed to church together — far from it! They go on dates to services all the time, whether they're in Los Angeles, Miami or New York. So here's to spending Halloween the holy way!