Pittsburgh Synagogue's Former Rabbi Wishes Trump Would Postpone Visit — He'd Be A 'Distraction'
Donald Trump is heading to Pittsburgh in the wake of the tragic shooting on Oct. 27, but the synagogue's former rabbi tells HL exclusively that he wishes the president would 'wait a week.' Here's why!
Donald Trump, 72, is arriving in Pittsburgh on Oct. 29 to show his support for the people of Pittsburgh after the horrific tragedy that took place when Robert Bowers allegedly murdered eleven people in the Tree of Life Congregation Synagogue during a Sabbath service. Many have been vocal about their desire for the president to stay away from Pittsburgh after his comments about the shooting focused more on his distaste of the media than Bowers' anti-Semitic hate crime. As for Rabbi Chuck Diamond, who worked at the synagogue until a year ago, he told Hollywoodlife.com EXCLUSIVELY that he feels the same. "My plea to him would be to wait a week," Chuck said. "The funerals start tomorrow. The focus has to be on the family. Any president that comes in would be a distraction."
And there's a reason that this president, in particular, has the public so divided about his Pittsburgh visit. "I think the people are upset at certain things that his administration does and the rhetoric he uses," Chuck added. "I think that angers people. This guy was a hateful person who owned some guns and I don't think you could blame the president for this specific incident, but many people do. I think the president needs to come out stronger in his stance on certain hate groups, and I don't think he's done that in this case." In fact, when Donald spoke out about the shooting, he focused mostly on defensive statements. "There is great anger in our country caused in part by inaccurate and even fraudulent reporting of the news," he tweeted after.
For the people of Pittsburgh, this moment is not about the media, but about the people who were murdered. "The two Rabbis in the building are very shaken, but at the same time they have to move right into rabbi mode. Funerals start tomorrow and they'll last all week," Chuck said. "I knew 9 of the 11 people killed very well. I was the rabbi there for seven years and many were my congregants. Rose Malinger, she was 97-years-old and the sweetest person you would ever meet. She was a great mother to her family and her grandkids. She was very active at 97 and would be in synagogue early each week with her daughter."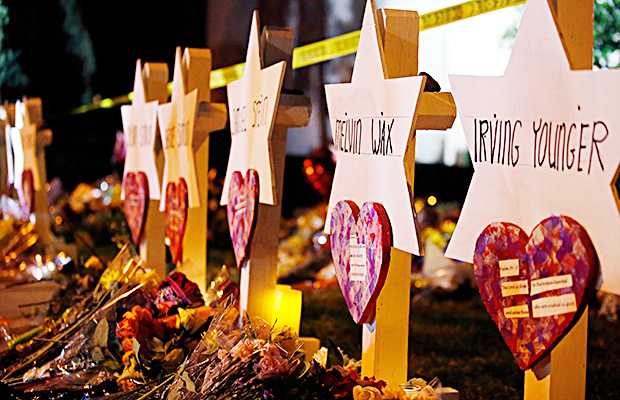 Rose was one of the twelve victims killed in the horrific shooting, as well as Joyce Feinberg, 75; Richard Gottfried, 65; Jerry Rabinowitz, 66; Cecil Rosenthal, 59;David Rosenthal; Bernice Simon, 84; Sylvan Simon, 86; Melvin Wax, 88, and Irving Youngner, 69.