Wells Adams & Sarah Hyland Win Halloween With Hilarious 'Taco' & 'Belle' Couples' Costume
That's it. Halloween is over. Sarah Hyland and Wells Adams just won the whole thing with their adorable couple costume! On top of that, it's a brilliant pun.
Take one of the most beloved Disney characters. Add in perhaps the most delicious food on earth. Throw in former Bachelorette and Bachelor In Paradise's Wells Adams, 33, and Modern Family's Sarah Hyland, 26, and voila! It's perhaps the most ingenious couple costume we're going to see this Halloween. For the Just Hared Halloween party on Oct. 27, Wells threw on the yellow ball gown straight out of Beauty and the Beast, while Sarah was…a taco. While at first glance, it might not make sense, but after realizing Wells was Belle – there you go. "Taco Belle."
"Find someone who looks at you the way Taco looks at Belle," Wells captioned an Oct. 28 Instagram post of their costumes, the picture showing them walking hand-in-hand while smiling. If these two didn't win the party's costume contest, they definitely set squad goals. Sarah and Wells have been dating for just over a year, but things apparently have gotten serious. After trying a long distance relationship for a while, Wells decided to relocate out west to Los Angeles. The two now live together, per E! Online, and Sarah couldn't be happier. "I think it's brought us closer," she said in August 2018. "He's more anal and cleaner than I am, so it's great."
Wells – who was on season 11 of The Bachelorette, season 3 of Bachelor in Paradise and took over bartending duties for Jorge on the 2017 season of BiP – does more than just clean up after his love. He also defends her against trolls. After Sarah shared a bathroom selfie on Oct. 5, revealing her abdomen scar from her 2012 kidney transplant, one hater told her to "eat a doughnut." Wells responded by telling this fool to "eat sh*t."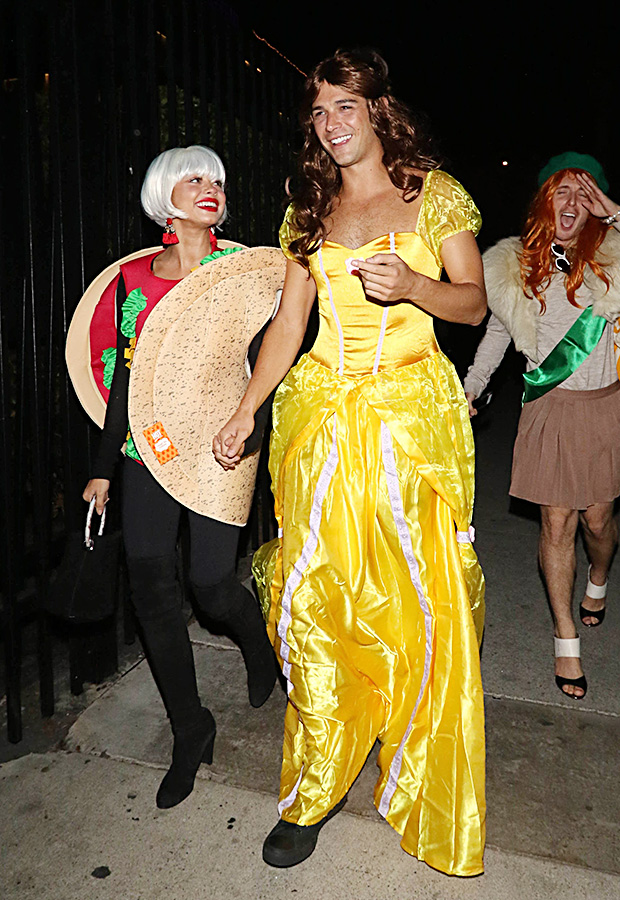 Wells may have dressed up as Belle for Halloween, but judging by how quick he is to jump to her aid, it seems Sarah has definitely found her Prince Charming (wrong fairy tale, but whatever.) So, are these two thinking about taking their storybook relationship to the next level by having a kid? Sarah "doesn't have plans for a baby anytime soon," an insider EXCLUSIVELY told HollywoodLife.com, but if she happened to get pregnant with Wells, "she would be really excited." Wow! Imagine the family Halloween costume they could pull off then!