Jinger Duggar Shares Sweet Lookalike Pic With Daughter, 3 Mos., In Matching Headbands
Keep 'em coming, Jinger! The reality star loves sharing pics with her little one, and her most recent post may be the cutest yet. See their adorable twinning shot here!
Jinger Duggar, 24, couldn't be a cuter momma! The Counting On star didn't dress up with her daughter this Hallo-weekend like some other reality stars, but she did wear matching headbands with her little one — and that's honestly just as cute! In the sweet shot she posted to Instagram on Oct. 27, Jinger was holding her three-month-old Felicity and smiling down at her. And while the new mom had on overalls and her daughter had a polka-dot tee shirt, they were both wearing the exact same headwear — a fun floral wrap! Of course, Jinger's got much more hair and had it pulled back into a top knot, but the mother/daughter pair looked adorably alike anyway. "Like mother, like daughter," she captioned the pic.
This isn't the first time that Jinger has melted our hearts with a sweet shot of her and Felicity. Her daughter loves the camera! Jinger and her husband Jeremy Vuolo, 31, are always posting pics of their newborn on social media, but while they get a lot of support from fans, there's a ton of negativity thrown their way as well. In fact, the Counting On couple have been bashed for everything from their daughter's mittens to her nickname to her skin — but it's the headbands that have been under fire the most. One in particular, a maroon turban that Felicity sported at a Chicago Cubs baseball game, was accused of being cultural appropriation. In spite of the hate they get online, though, these new parents keep right on posting.
Thank goodness! We love watching this little one grow, and honestly wish the other Duggar moms would post as much as Jinger does.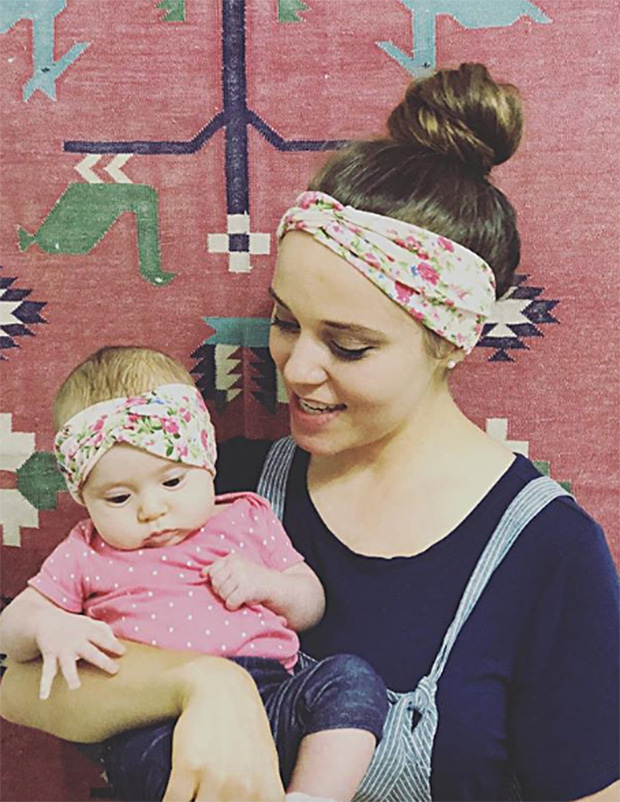 Even though Jinger, Kendra Caldwell, 20, and Joy-Anna Duggar, 21, all gave birth to their first babies on the latest season of Counting On, Jinger is the only one giving fans a consistent peek into her daughter's life. But as far as fans are concerned, the more pics, the merrier!