Jimmy Kimmel Tricks Kids Into Meeting Michael Myers & It's The Best Halloween Treat Of The Year
Jimmy Kimmel always delivers on Halloween hijinks — and this year is no exception! Thanks to a Michael Myers costume and parents with a sense of humor, he made sure these kids got the frights of their lives.
Jimmy Kimmel, 50, has more tricks than treats up his sleeves when it comes to Halloween. While he's had parents convince kids they'd eaten all of their candy in the past, he upped the ante this year with a super scary joke. The talk show host had children — with their parents' permission, of course — take a festive photo on Michael Myers' lap in a spooky twist on the classic Santa shots. The man dressed as Michael was harmless and even gave the kids candy, but his mask, hulking stature and eerie silence freaked a few little ones out. Well, except for one who settled happily into the character's lap with a big smile, then wrapped her arms around him. But the others were not a fan of the Halloween villain — and who could blame them?
The brave little ones entered a room advertising "Free Halloween Photos" all by themselves, and Michael Myers was there waiting for them. Yikes! The first kid kept saying, "This is spooky," as the icon led him to the big black chair for a pic, but he smiled nonetheless. It was an uncomfortable smile, but it was there! Not every kid made it to Michael's lap, though. One kid cursed under his breath and backed away from the icon, saying "No," over and over again, and another barely made it past the doorway. In fact, after stepping into the room and seeing Michael, the little girl looked him up and down, declared, "Nope," and fled the scene, dropping her purse on the way.
Does it get any cuter than that? It might sound cruel, but we really hope Jimmy makes this an October tradition. Who's with us?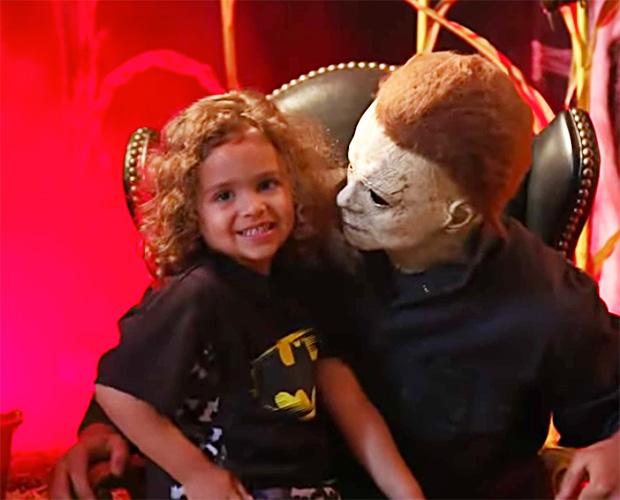 Whether he's making celebrities read mean tweets about themselves or terrorizing little kids over the holidays, Jimmy sure knows how to make us laugh.