'Riverdale': Mark Consuelos' Son, Michael, 21, Looks Exactly Like His Dad Playing Young Hiram
Holy lookalike, 'Riverdale!' The CW has released more photos from the flashback episode, including one of Michael Consuelos as the younger version of dad Mark's character, Hiram. They are TWINS!
Riverdale kept it in the family when it came to casting the teenage version of Hiram Lodge. Michael Consuelos, 21, will play the younger version of his father, Mark Consuelos, 47, in the highly-anticipated Riverdale flashback episode. In the new photo, Michael looks exactly like his dad. Michael is featured in a scene alongside Charles Melton, 27, who plays Reggie and will play a younger version of his character's father as well. This is Michael's first major TV role.
Michael will appear alongside the Riverdale cast, who are all playing the younger versions of their onscreen parents. The resemblances are insane. KJ Apa, 21, even dyed his hair back to brown to play teenage Fred. KJ's natural hair color is brown, but he dyes it red to play Archie. The episode — titled "The Midnight Club" — will air Nov. 7.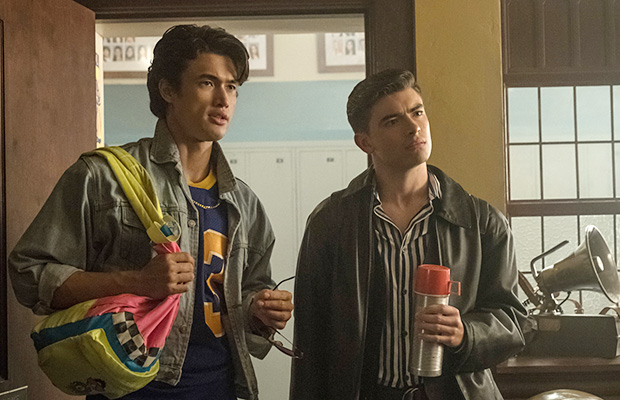 At the Television Critics Association summer press tour in Aug. 2018, showrunner Roberto Aguirre-Sacasa revealed why the show is going back in the past. "We're going to learn about a really, really dark secret in Riverdale that the parents have been keeping since they were in high school," he said. During the second episode of season 3, the parents all got together for a secret meeting to discuss this vow that they made after they learned of Dilton Doiley's mysterious death. "We made a pact to never revisit that night. Not to mention it. Not to even think about it," Tom Keller said during the episode. Hermione fired back, "We might not have that luxury Tom. Not if it's happening again. Not if it's our children. All our children, they're in danger." Riverdale season 3 airs Wednesdays at 8 p.m. on The CW.