Amber Rose Gets Mom Shamed For Kissing Son, 5, On The Lips — See Sweet Pic
What's the big deal? Amber and her son Sebastian are close — but haters are calling them a little TOO close after this picture of their peck. See the controversial shot for yourself!
Not again! Amber Rose, 35, joins the long list of celebrity moms and dads who have been bashed for kissing their kids on the mouth. The model, who shares a five-year-old son Sebastian with her ex Wiz Khalifa, 31, loves posting pics with her little one — and the latest has freaked fans out. "My Greatest Gift," she captioned a close-up shot of her and her son puckering up for a kiss. She even included a pumpkin emoji since she often calls him her pumpkin. Aw! But even though their lips technically weren't even touching in the photo, Instagram trolls had so many negative things to say to Amber. "Too much intimacy in this pic," one wrote, while another added that she needed to stop "making out" with Sebastian.
Crazy, right? Amber's son is five and there's nothing wrong with showing her kid a little love with a kiss — so it's a good thing some followers showed their support. "You people are DISGUSTING really," one person wrote. "It's her SON. She has every right to kiss him on the lips, and for all you nasty people making comments, clearly your parents never loved you or gave you hugs." But the PDA wasn't the only reason Amber was being bashed. The mom-shaming was taken to another level entirely as haters started slut-shaming her, too. "Now Amber, you had six boyfriends this year. I counted," one user said. "You do not need to kiss this baby anywhere! That's like telling him to lick a public bathroom floor."
Ouch! Leave it to the Internet to turn a super cute mother/son picture into such hateful commentary.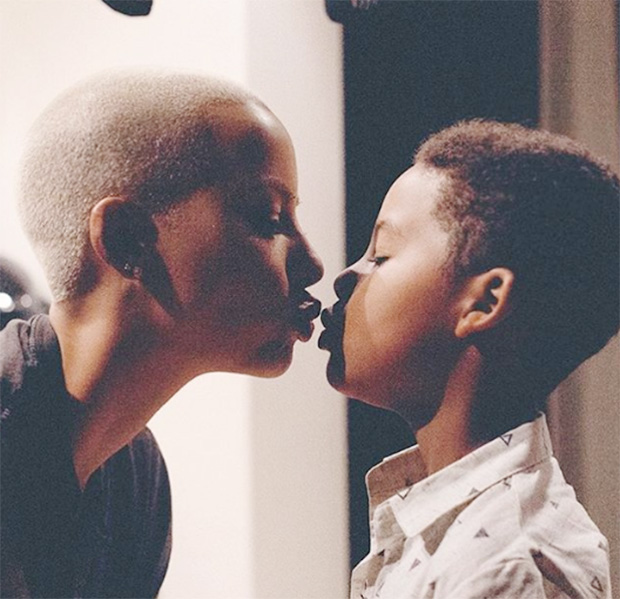 Amber and Sebastian unfortunately already have experience with this kind of social media shaming, though. When she shared her son's love for Taylor Swift, Amber's Instagram followers started going after her little one's sexuality — and she clapped back in the best way possible.
"Let's do better for the next generation people," she said. "Grow the f**k up and teach ur kids to love and not hate. P.S.S regardless if he's gay or straight when he gets older he will be around the most amazing loving people that will support him no matter what." Yes, Amber!
This momma loves her son so well. Here's to hoping she tunes the haters out!