Amandla Stenberg: 'The Hate U Give' Star Proudly Shows Off Unshaved Armpits At Premiere
Deputy Editor of New York City
Amandla Stenberg looked absolutely incredible at 'The Hate U Give' European premiere on Oct. 20, and she had no shame in showing off her hairy armpits on the carpet. See the pic here!
Add Amandla Stenberg to the list of stars who have no problem letting their armpit hair grow out! The 19-year-old actress attended the European premiere of her movie, The Hate U Give, on Oct. 20, and she put her unshaved pits on full display on the carpet. Amandla looked beyond stunning in her black dress for the premiere. The ensemble featured a majorly plunging neckline, along with side cutouts, allowing Amandla to put a whole lot of skin on display.
When she posed on the red carpet with her hand on her hip, her armpit hair was fully visible, but it certainly did not take away from the gorgeous ensemble. To complete her look, Amandla wore her hair in short braids, rocked dark smokey eyeshadow, and a peach lip. Seriously, she was GLOWING as she posed for photos, and she had no problem pointing out her armpit hair on Instagram. "#drama #armpit," she captioned a series of pics from the evening.
Of course, Amandla is not the first celebrity to flaunt armpit hair in public. Bella Thorne shows off her unshaved armpits quite often, and Paris Jackson is also known for doing it. "People are really mad," she's previously said, regarding trolls hating on her for not shaving. "I wish I could post some of these responses. I love hair, and sweat and BO. I f***ing love it. I think it's great. Some people think that it's super disgusting, especially on girls, but every human body does it. It's natural. Get over it."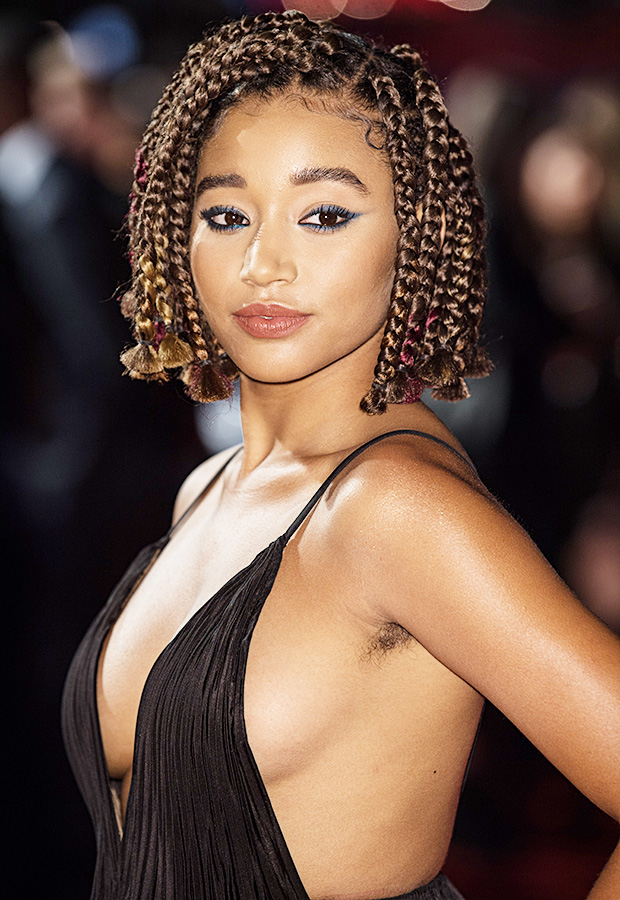 Amandla herself is known for being vocal against the haters, so if people do come at her for not shaving, it certainly won't be surprising for her to respond. The Hate U Give is in theaters now.