Scott Disick & Sofia Richie Looked 'Upset' Before Storming Out Of LA Event — Did They Fight?
Scott Disick and Sofia Richie 'angrily stormed out' of an event at the Hologram USA theater on Oct. 19. Here's what went down, according to an eyewitness.
Scott Disick and Sofia Richie were having a lovely night at the Hologram USA theater in Hollywood on Oct. 19 until something went wrong and they "angrily stormed out." Greek billionaire heir Alkie David went off on Disick after experiencing technical difficulties with projecting a holograph of the reality star onto the stage, an eyewitness EXCLUSIVELY tells HollywoodLife.
"Scott and Alkie were being filmed in a green room, backstage, to be projected onto the stage as holograms," the insider explains. "But as the sound and picture cut in and out, Alkie unleashed a belligerent, foul-mouthed tirade on Scott and the crowd watching. Scott looked very uncomfortable on stage with Alkie as Alkie cursed out the cameraman and others in the vicinity." There were about 100 people in the audience at the private party where Disick was promoting Swissx, a line of CBD products.
"Alkie also took questions from the crowd for Scott and went on a vulgar rant on a TMZ reporter who tried to ask Scott if he would be Kanye [West]'s running mate in a presidential election," the eyewitness shares. "Scott then admitted to another audience member that he did not feel safe at the event but was glad he had security with him." The source tells us that Disick and his girlfriend were accompanied by a large bodyguard.
Even though the couple left "angrily" following the incident, they appeared to be in good spirits when they arrived at the event together. "Scott and Sofia entered the event looking happy, cute and in love. They even shared a few PDA moments in the crowd, hugging and kissing," the insider tells HL.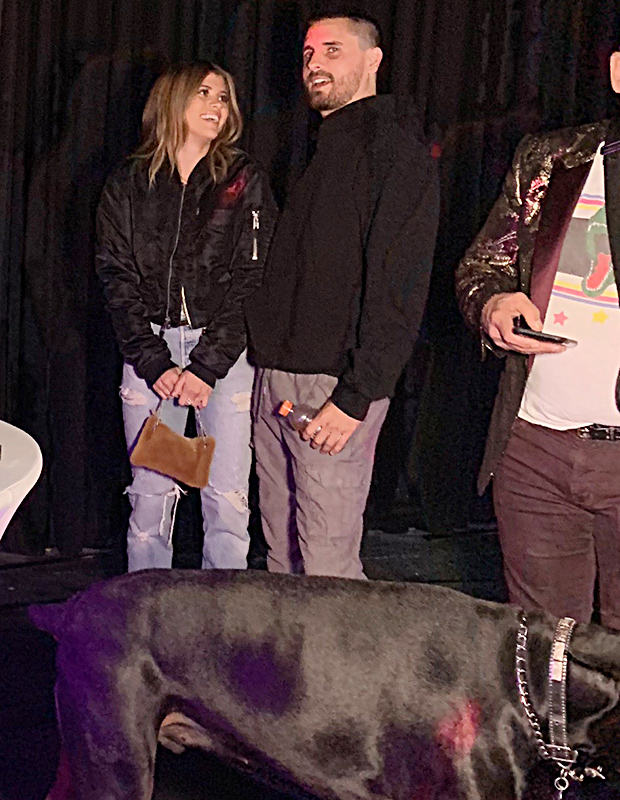 The source adds, "But Scott looked very upset as he stormed away from the event hurrying with Sofia after Alkie's belligerent tirade." We don't blame him! A representative for Disick had no comment on this eyewitness report.