8 Celebs Still Wearing Crop Tops In October: Priyanka Chopra, Halsey, & More
There's a fall chill in the air, but it's not stopping celebrities from flaunting those abs! See pics of stars like Priyanka Chopra and Halsey, who aren't scared to wear a crop top in October.
It's positively chilly in New York City right now, but Priyanka Chopra's paying no mind to that. The Quantico actress (and future Mrs. Jonas), 36, was spotted strolling through Manhattan on October 17 wearing a heavy wool coat and jeans on the 50-something degree day. Oh, and a crop top! While the rest of the town is bundled up and cursing the autumn weather, Priyanka's doing her own thing and flaunting those amazing abs! See a full-length photo of Priyanka's daring ensemble below.
Bella Hadid, 22, braved the NYC chill, just like Priyanka, to wear a flirty outfit for date night with The Weeknd. Bella and her 28-year-old, on-again boyfriend headed to dinner on October 2 in Manhattan looking effortlessly cool together. And we mean that literally for Bella — she was wearing a tiny crop top! She somehow made the simplest of outfits look effortlessly cool, wearing a basic black cardigan over a cropped tee that showed off her impossibly flat stomach. She completed the outfit with oversized, ripped jeans, a thin belt, and a camouflage-print saddlebag. So cute!
In all fairness, Halsey's October crop top was worn during an awards show performance, where all outfits are game. Still, we can't not comment on how good she looked in this lace-up number from the 2018 American Music Awards! Halsey's outfit for her "Eastside" performance with Benny Blanco and Khalid was divine. She wore a corseted white crop top, high-waisted jeans, and a slick pair of Jordans. Even cooler? Her pink hair!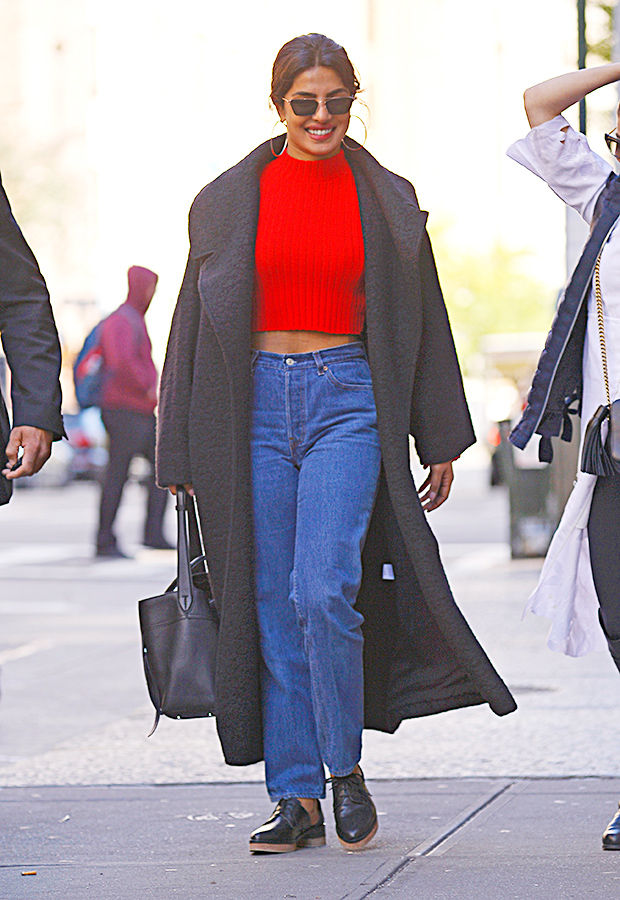 For more pics of hot celebs wearing crop tops in October, like Bella Hadid, Sofia Richie, Kourtney Kardashian, and more, scroll through our gallery above. These outfits are seriously sexy!