Kate Middleton & All Of Princess Eugenie's Guests Risk Wardrobe Malfunctions On Windy Wedding Day
British weather strikes again. Princess Eugenie's wedding guests struggled against gusts of wind, as Meghan Markle, Naomi Campbell and more all came so close to suffering royal 'wardrobe malfunctions.'
The forecast for Princess Eugenie's big day didn't reach Alanis Morissette-levels of disaster ("It's like rain on your wedding day") but the wind was definitely a thorn in a many guest's side. Being that this was a British wedding, fascinators and giant hats were practically mandatory and if there's one thing that a giant hat isn't, it's aerodynamic. Robbie Williams's mother-in-law, Gwen, lost her hat as she walked towards St. George's chapel with the "Rock DJ" singer and his wife, Ayda Field. Ellie Goulding also had to keep her hand on her feather hat as she walked towards the chapel, as did Cara Delevingne, 26. The Suicide Squad actor was an androgynous sex symbol in her slick black waistcoat, blazer, trousers and stilettos. Her top hat completed the outfit, but the win nearly whipped it off her head!
Losing one's hat is embarrassing enough. Having the wind blow up one's skirt would be mortifying. Thankfully for Kate Middleton and Meghan Markle, they were able to get inside the chapel without suffering such humiliation. Both women – along with Prince William and Prince Harry – were driven towards the steps of the chapel, avoiding the long walk that troubled such guests like Naomi Campbell, Chelsy Davy, Kate Moss, Demi Moore, and Pixie Geldof.
Blame Storm Callum for this crazy wind. While the United States' east coast is being battered by the wind and rains of Hurricane Michael, across the pond, Storm Callum brought winds up to 76 mph, according to The Guardian. The Isles of Scilly recorded the most "ferocious" winds, as the third named storm of the British season slammed into south-west England, Wales and North West England, bringing gusts up to 60 mph. Western Power Distribution said more than 950 homes were left without electricity, and some flights at Cardiff and Exeter airports were cancelled. Windsor, home of the royal wedding, escaped the worst of it, as power remained throughout the ceremony.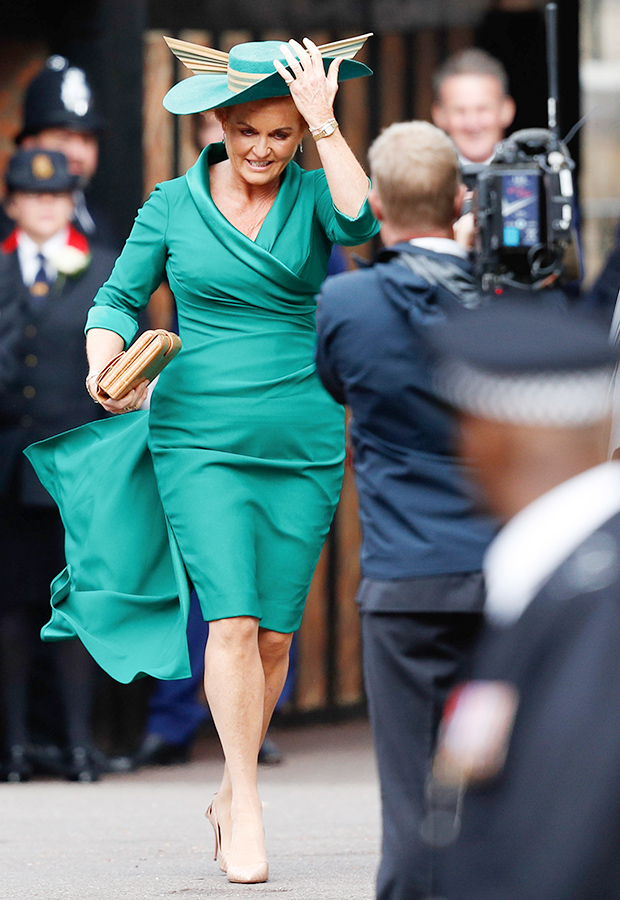 Overall, despite the massive gusts of wind, the ceremony went off without a hitch. In front of 850 guests, Princess Eugenie and Jack Brooksbank were wed. The bride looked gorgeous in a backless gown designed by Peter Pilotto and Christopher De Vos of Peter Pilotto. Princess Eugenie's dress showed off a massive scar down her back, the result of a scoliosis surgery she had when she was only 12 years old. Ever since the surgery, she's been an advocate for scoliosis awareness and having her get married in such a dress was such an amazing gesture. No wardrobe malfunction there!