Justin Bieber & Hailey Baldwin Were 'Glowing With Happiness' At Hometown Museum, Says Eyewitness
Justin Bieber introduced Hailey Baldwin as 'his wife' during a tour of his hometown's museum on Sept. 30. So we got museum employee Kelly McIntosh to EXCLUSIVELY spill more details about the visit to HL!
Justin Bieber
, 24, dropped by a historical spot during his hometown trip to Stratford, Ontario on Sept. 30: the
Stratford Perth Museum
! But the pop sensation made even more history after introducing his travel buddy
Hailey Baldwin
, 21, as "his wife" to the staff…even though they haven't publicly announced their marriage, save for a
speculated courthouse ceremony
on Sept. 13 in NYC. So
HollywoodLife
EXCLUSIVELY chatted with one of the staff members,
Kelly McIntosh
, who was at the front desk when the
engaged couple/possibly married
pair walked in. Kelly gave more insight into Justin's introduction, which had left more heads scratching! "They came in together and had a few people with them that I didn't recognize. Justin and Hailey were both very polite and they made a point to come up and introduce themselves," Kelly revealed to HL. "Justin introduced Hailey as his wife and they both shook my hand, which I thought was so formal and nice."
It's confirmed. Justin did indeed introduce Hailey as his wife! Oh, and there's more on that. "They looked really in love, they had big smiles, especially when he introduced her as his wife," the museum employee continued. "When he introduced Hailey as his wife I just took it for what it was and didn't put too much thought into it. Hailey didn't say much but I could tell they were really happy, they were both smiling a lot and just seemed to be in such good moods. They were glowing with happiness." Although the museum's Instagram account commented that the wife title could've been "just a term of endearment" on Oct. 1, Justin didn't backtrack on it!
"I wanted to give them some privacy so I didn't follow them into the exhibit," Kelly went on. "But there were two international visitors already in the exhibit and I could hear that Justin and Hailey were very polite with them and even took some pictures with them." Justin gave Hailey a tour of the exhibit commemorated in his honor, "Justin Bieber: Steps To Stardom." The museum staff member continued, "This is Justin's third or maybe even fourth time visiting the museum and we are so happy that he's comfortable to come visit and we are thrilled that he wanted to bring Hailey."
"I made a point to give them their space to relax and feel comfortable. But I did notice that Hailey took the time to check out the exhibit we have with some of Justin's awards form early in his career," Kelly pointed out to us. You can see the award case that the model checked out below! "Hailey was looking at all of his awards and things, just taking it in and enjoying it."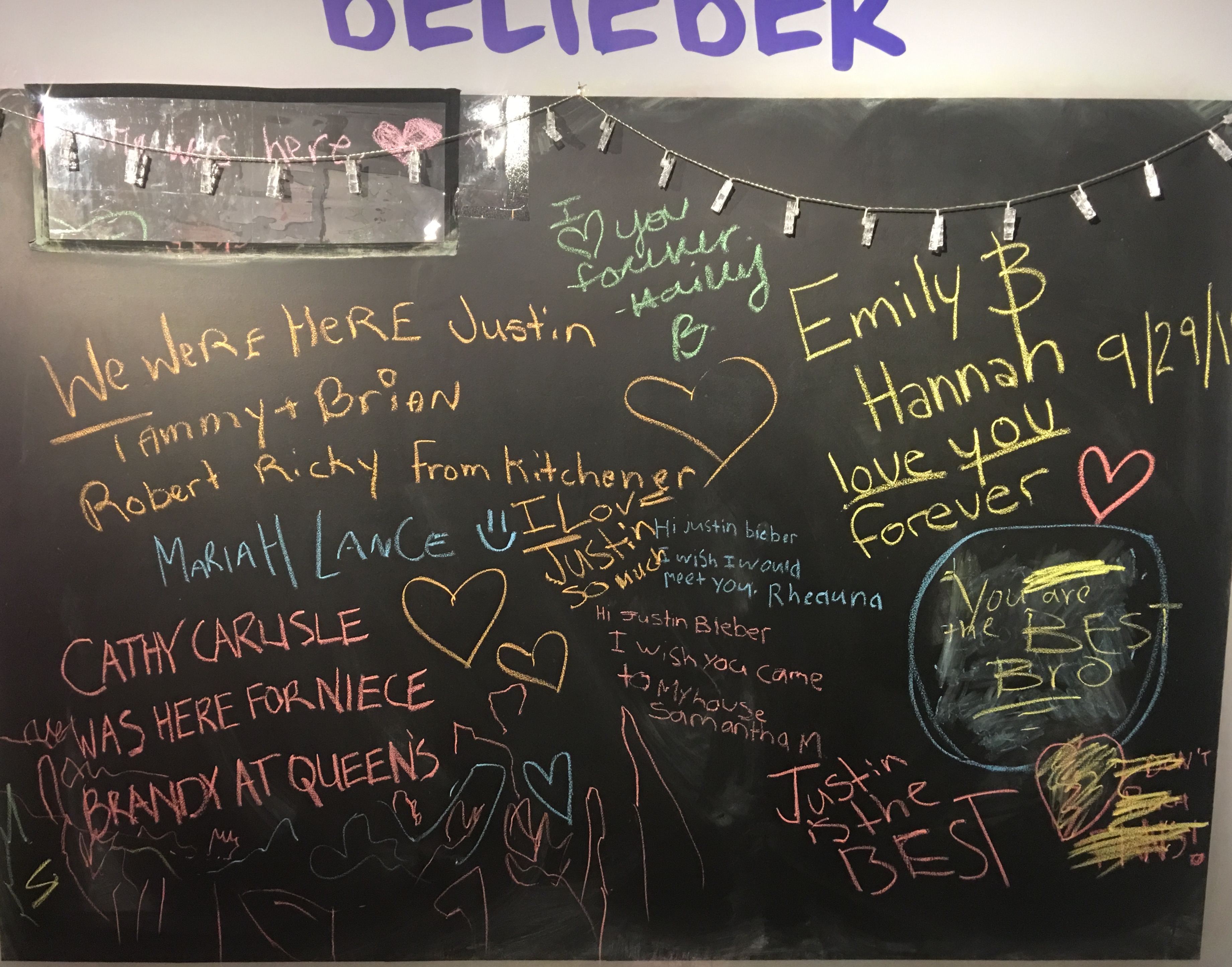 "They also signed the blackboard that we have and Hailey left a sweet message and we have now covered that in plastic so that it won't get rubbed off," Kelly told HL, as you can see above! At the top of the blackboard, Hailey signed off her message in green chalk with "Hailey B." Her signature could be referring to Baldwin, or her possible new surname, Bieber! "They were here for about 45 minutes," the museum employee went on. "One new addition to the museum is there is now a loop with all of the carpool karaokes that Justin has done and it's really cute and funny and they did check that out as well."
And there's a special reason why Justin likes to revisit his hometown museum. "But overall I just wanted to give them their privacy to enjoy themselves. I like to think of this as a sweet, safe place for him to be because his grandparents have been so involved in helping to create this exhibit," Kelly revealed to HollywoodLife. "We are so pleased that he wanted to come back and bring Hailey to see it too."