Ciara Reveals She Worked Out 3 Times A Day For Post-Baby Bod: 'I Want To Keep It Sexy'
You'd never guess that Ciara gave birth to a baby girl last year — she bounced back so fast! So how'd she do it? The mother of two opened up about her routine and more in her 'Cosmopolitan' cover story.
When Ciara, 32, released her sexy "Level Up" music video, we could barely believe she had a baby at home! The singer gave birth to her second child Sienna Princess, her first with husband Russell Wilson, 29, in April of 2017 — and she worked hard to get her post-baby bod back on point. "It was kind of like, wake up in the morning, breastfeed, eat a small meal, go train, come back in, breastfeed, eat another meal, go train, then come back, have another meal, and then a third training session at night," she revealed in her November Cosmopolitan cover story.
But just because she trained this hard post-pregnancy, Ciara made it clear that not all moms need to copy her rigorous routine. She was working out three times a day, which is basically a full-time job! "It was a good challenge, one I set for myself, not for anyone else," she said. "Taking care of myself feels really good. And I want to keep it sexy too." Well, mission accomplished! Ciara's hard work sure paid off because she is an undeniably sexy mother of two. She even looked crazy confident rocking a skintight leather 'fit when she recently opened for Bruno Mars. Yes, momma!
Ciara opened up about more than just her impressive post-baby body, though. She also slammed Internet trolls in the interview, which is so refreshing with all of the mom shaming going around nowadays.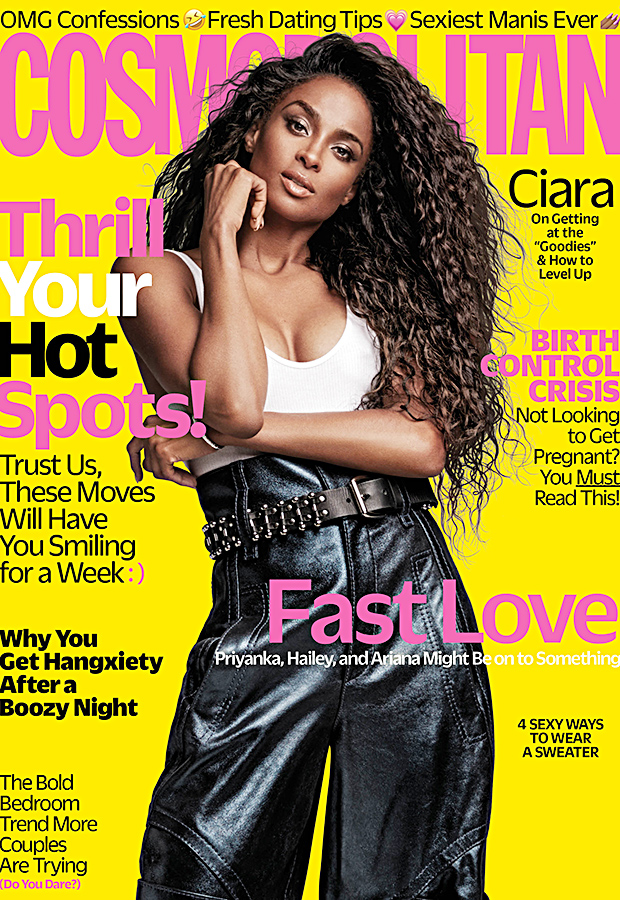 "When someone comes for you and you didn't send for them, you keep your eye on the prize," she said. "I know what my mission is. I know what I'm hoping for and working hard for every day. And that's my focus. I'm not going to let people steal my joy. I move on. New day, new opportunity, new energy, let's go."
That's the spirit! She's killing it as both a mom and a singer, so we love that she chooses to tune the haters out.