Cardi B In Red Bra & More Stars Rocking Massive Cleavage On Stage — Pics
Everyone from Taylor Swift to Ariana Grande to Madonna has rocked a bra on stage to perform their hit songs. See the sexiest on-stage outfits right here!
Cardi B, 25, looked red hot in a red bra with red, fringed pants and a matching red jacket as she performed at the Global Citizen Festival in Central Park, on the Great Lawn, on Sept. 29 in New York City. She showed off her toned and tight stomach just two months after giving birth to baby Kulture! She looked amazing while singing her hits at the charity concert. She always makes sure her on-stage looks are super sexy! Remember when she twerked at Coachella in her third trimester? She's not afraid to show off her body!
But Cardi B is not the only star who loves wearing bras on stage. Dua Lipa, Charlie XCX and Iggy Azalea have all shown their stomachs and cleavage while rocking out at various concerts and festivals. Ariana Grande's signature on-stage outfit for years was a flirty skirt and bra top. She wore that look on The Today Show back in 2014, which you can see below. Beyonce loved a bra moment, especially earlier in her career and during her Destiny's Child days. Now, she prefers sparkly bodysuits and jumpsuits.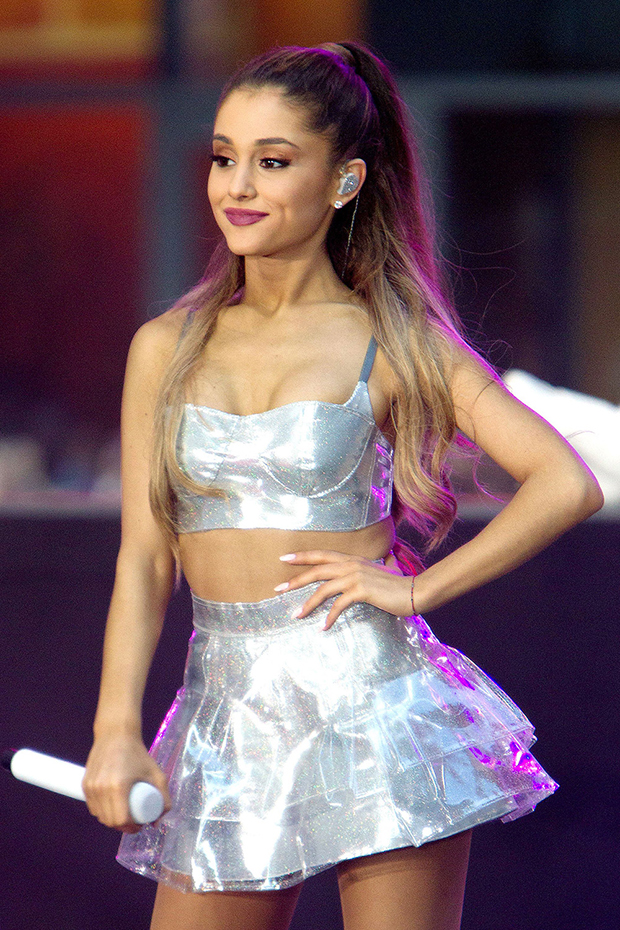 Of course, Rihanna has worn lingerie on stage before, and now that she has her own Savage x Fenty lingerie line, we hope we see her performing in a bunch of sexy outfits in the near future! Madonna was probably the original star to rock a bra on stage. From her famous cone bra to a black beaded top, she started this trend that is still going strong in 2018! See more pics of pop stars wearing bras on stage in the gallery attached above!