Kourtney Kardashian Reveals At-Home Workout That Keeps Her 98 Lb. Figure Trim & Toned — Pic
This Kardashian sis manages to stay under triple digits, but you don't need a gym membership to mimic her routine. Nope, just a box! See for yourself.
How does Kourtney Kardashian, 39, stay so slim? Turns out it might not be as complicated as we think. In fact, the reality star jumps on top of a box 30 times a day to maintain her 98 pounds. While the double-digit weight may not be healthy for some — keep in mind that Kourtney is 5'1″ — anybody can copy her routine! She even did it while on vacation, sharing it with fans on her app on Sept. 10. "Start in a standing position with your feet hip-length apart, lower into a squat and jump up onto the box pushing from the heels of your feet," she said. "Make sure your knees are bent as you jump and try to land firmly on the balls of your feet. Try to do 3 sets of 10 jump squats." She demonstrated the move with her trainer, wearing a neon sports bra, matching bike shorts and white sneakers.
She looked amazing mid-workout, but that's no surprise. She's been stunning us with knockout bikini pics all summer long, and shared another on social media the same day as her squat video. In the blurry shot, she was stepping out of a car in a vintage Burberry bikini. The two-piece was the brand's classic plaid pattern and flattered her figure with it's halter neck and high waist. With her hair back from her face and a pair of red cat eye sunnies on, Kourtney was serving a seriously hot summer look. And she didn't stop there!
The mom of three rocked the same bathing suit while hanging with her mom Kris Jenner, 62, on lounge chairs by the pool. Both Kris and Kourtney looked tan and toned in the shot. Like mother, like daughter!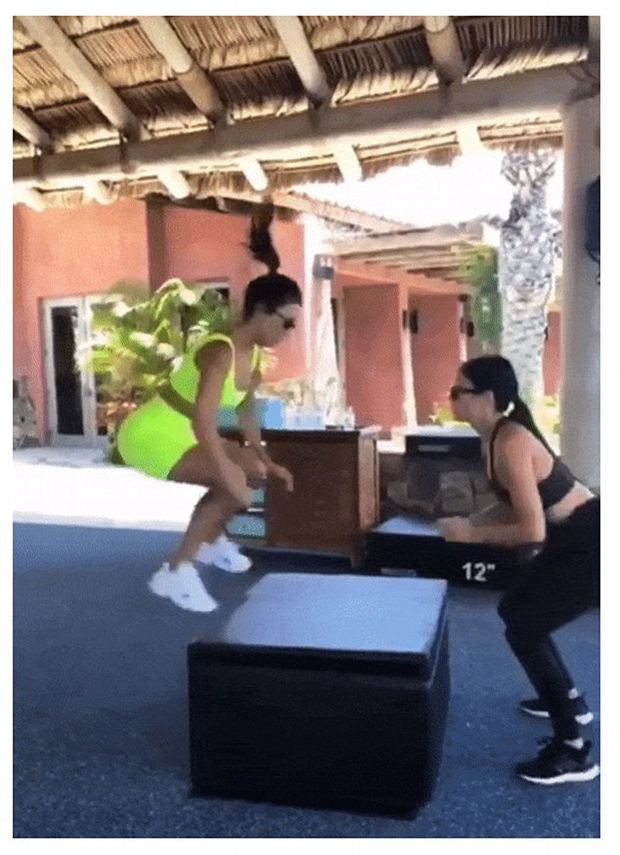 But Kourtney isn't the only Kardashian sis who works out to keep her slim figure. Khloe Kardashian, 34, was criticized for hitting the gym shortly after giving birth to True Thompson in April, and Kim Kardashian, 37 recently dropped 20 pounds. She's down to 116, which isn't super shocking considering all of the gym videos she shares on social media. These sisters all work hard to stay slim, and they look amazing!