T.I's Rumored Side-Chick Reportedly Takes Shots At Marriage After Fan Calls Her 'Homewrecker'
T.I. may not have confirmed his affair with Asia'h Epperson, but her latest Instagram clap back sure seems to! See the savage thing she said about his marriage to Tiny!
Does this mean what we think it means? When a fan accused T.I.'s rumored side chick Asia'h Epperson, 30, of being a "homewrecker" on Instagram, she sounded off with this savage comment, bashing T.I. and Tiny Harris's marriage. "A home wrecker I would never be," she said. "Not my style! I'm into building baby! However, on another note… Just so you know, you can't wreck a wrecked home." Instead of denying her affair with the rapper, the actress went ahead and put his eight-year marriage on blast. Ouch!
Rumors about Asia'h and T.I have been flying ever since June 15 when he was caught slapping a mystery woman's butt backstage at his show in Indiana. While she was identified, the extent of his relationship with Asia'h has remained a secret. Did it ever go beyond a slap and turn into a full-fledged affair? Whatever the case, Tiny and T.I. reportedly fought over whether or not he could watch The Bobby Brown Story documentary when it aired on Sept. 5 because it featured Asia'h. "Tiny does not want T.I. ever mentioning her name again or even watching her on TV," a source close to the couple told Hollywoodlife.com EXCLUSIVELY. "It's a matter of principle and Tiny doesn't think T.I. should disrespect her that way, but he sees it very differently. T.I. does not take well to her telling him what he can or can't do."
Every relationship has its ups and downs, though, and these two are still working on theirs! Things have been rocky, and we bet these comments from Asia'h sure aren't helping matters. But here's to hoping they don't let anything — or anyone! — get in the middle of what they have.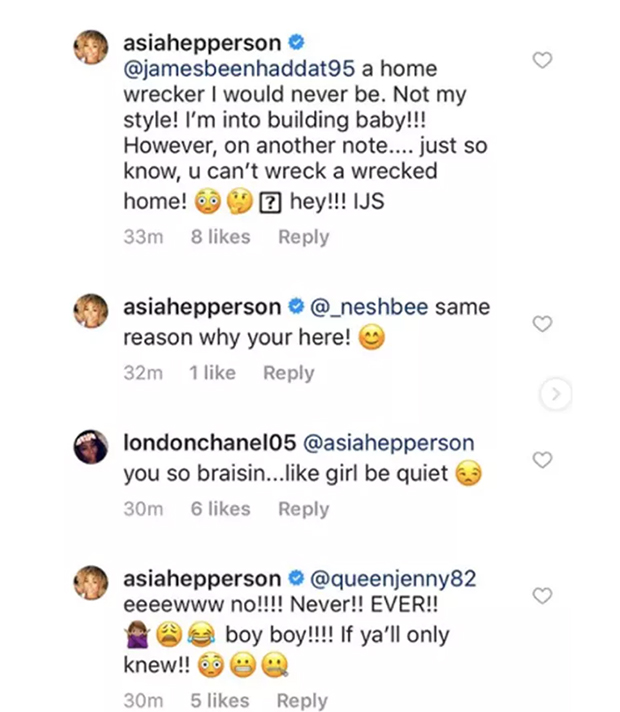 Tiny and T.I. do have seven kids to take care of, after all! There are even rumors going around that they're interested in trying for another at some point. That sure doesn't sound like a wrecked home!