Jenna Jameson Shares Heaviest Photo Before 60 Lb. Weight Loss — See Before & After Pics
Another day, another transformation photo from Jenna Jameson! The mother of three 'almost chickened out,' but shared this shot at her heaviest — along with a rundown of her daily diet.
Jenna Jameson, 44, has lost over 60 pounds since giving birth to her daughter Batel a year and a half ago, and she's been opening up about her weight loss journey on Instagram ever since! On Labor Day, she shared a photo with fans at her heaviest, which she estimated was somewhere around 187 pounds, "more than likely more." She asked her hubby Lior Bitton to take an elbow-up photo as a pro-breastfeeding shot for Instagram, but he captured her full body from her sunglasses down to her gray underwear. She posted this beside a more recent picture of her wearing a strapless one-piece bathing suit. "I almost chickened out on posting this before image of me," Jenna said. "I don't even know what to say except I'm so sorry to my body. Moving on."
And move on, she did! "Let's talk what a day of eating looks like for me on the one day I don't practice intermittent fasting," the former adult film star said. The rest of her lengthy caption went into detail on her keto diet, outlining every single thing she eats. From a couple cups of coffee first thing in the morning with coconut oil and sugar-free creamer to scrambled eggs with cheese and mushrooms, Jenna keeps careful track of everything she puts into her body. She has a ribeye with onions and garlic for lunch, plus some sea bass for dinner, and that's that! Definitely not an easy diet for most people to stick to — where are the snacks? — so we respect Jenna's discipline on her weight loss journey.
But she didn't just eat right to get this fab bikini body! Jenna has been doing yoga ever since a gym session gave her a two-week shoulder injury. "I always was a nay sayer when it came to yoga," she said on Instagram. "Maybe because it forces you into your own head and feelings. The quiet of it used to scare me. I now sneak onto my rooftop and enjoy morning yoga before anyone is awake." How awesome is that?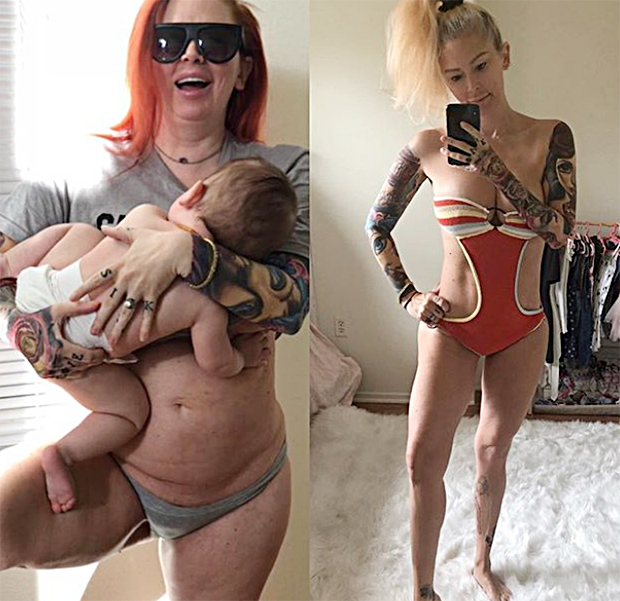 There's no doubt that her hard work has paid off! Jenna claims her weight loss has helped her to feel better both mentally and physically. We love that this momma takes care of both her baby and herself.