Colin Kaepernick Is Convinced He'll Never Play In NFL Ever Again After Nike Controversy
Colin Kaepernick was already sure he'd been blackballed from playing in the NFL for starting the National Anthem 'taking a knee' protests. Now he's even more convinced he'll never play again after being named the face of Nike's latest 'Just Do It' campaign.
Former NFL star quarterback Colin Kaepernick really had nothing to lose by agreeing to be the face of Nike's "Just Do It" 30th anniversary campaign. Now he's sure it will cost him any chance to play the league again. "Colin is well aware that the Nike campaign was going to have people talking and he knew that people would not like it. He expected backlash from his detractors, but the one thing that it has really done has convinced him that he will never play with an NFL team ever again. He knows that a team will not give him a chance with all the controversy it will bring. He has accepted that fact and looks forward to continue to be the activist he has become and pursue change rather than a paycheck in the sport that he loves," a source close to the 30-year-old athlete tells HollywoodLife.com EXCLUSIVELY.
Colin already sued NFL owners for conspiring to blacklist him from ever playing in the league again after he started the controversial "taking a knee" during the National Anthem. He did it to protest police violence against black victims and other social injustices. In the new Nike campaign unveiled on Sept. 3, a black and white close up of his face is shown with the caption "Believe in something, even if it means sacrificing everything." It sparked a ton of controversy and caused Nike's stock shares to drop three percent.
Colin began his protest during the third game of the San Francisco 49ers preseason in 2016 when he remained seated on the bench during the National Anthem. He later revealed to reporters, "I am not going to stand up to show pride in a flag for a country that oppresses black people and people of color. To me, this is bigger than football and it would be selfish on my part to look the other way." In the next game he took a knee and continued to do so throughout the Niners season. Other players throughout the league followed his lead in similar protests during the last two NFL seasons, much to President Donald Trump's ire.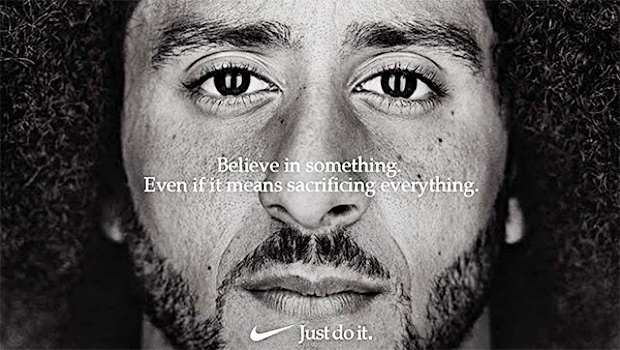 After Colin left the team in 2017, no other squad moved to pick him up although he was far more experienced and qualified than some NFL QB's at the time. He's since filed a grievance that NFL owners were colluding to keep him from playing in the league, and in Aug. 2018 an arbitrator agreed there was enough evidence to go forward toward a lawsuit. With his new Nike campaign, he's reminding people that his belief in social justice cost him his football career.