Kylie Jenner's Sleek & Straight Platinum Hairstyle At VMAs– How To Keep Freshly Dyed Hair Healthy
Kylie Jenner's hair at the VMAs was sexy and sleek. Her newly dyed locks are in a fragile state, so her hairstylist is breaking down how he protected her strands!
If you've ever dyed your hair, you know that fresh color is very delicate. You want to preserve your investment, so it's important to use the right tools to keep hair healthy and your color vibrant. Andrew Fitzsimons did Kylie Jenner's hair at the 2018 MTV VMAs, and broke it down for us! "Kylie was wearing a high collar, sexy Tom Ford white suit so we wanted the hair to be more sophisticated and grown to not take away from the dress or be too much." Here's exactly what he did:
"Kylie dyed her hair platinum blonde only days ago so I had to keep that in mind with everything I did tonight in terms of heat and pre-styling products. To start I used the Alterna Haircare Caviar Repair Multi-Vitamin Heat Protection Spray on her damp hair then blow dried using the ghd Air Hairdryer on medium heat with a ghd natural bristle radial brush size 3. I used a brush with natural bristles versus ceramic or metal so that hair would not get too hot and stay damage-free. I have to be super careful with her blonde hair, especially when I use heat tools.
"I then sprayed hair with a bit of additional heat protectant spray and then began straightening hair with the NEW ghd Platinum+ Styler. Freshly-dyed blonde hair can be more fragile so it was very important to me to use the best styler possible to keep the integrity of her hair and keep damage at bay. With the new ghd Platinum+ Styler, one pass gave us extremely sleek, frizz-free hair that we needed before putting it up. I knew I wanted the bun to be at the very center in the back of her head (just above the Occipital bone), so I directed all of the hair toward the area, except the front section to create the swoop, leaving two little pieces of hair in front of her ears to help frame her face.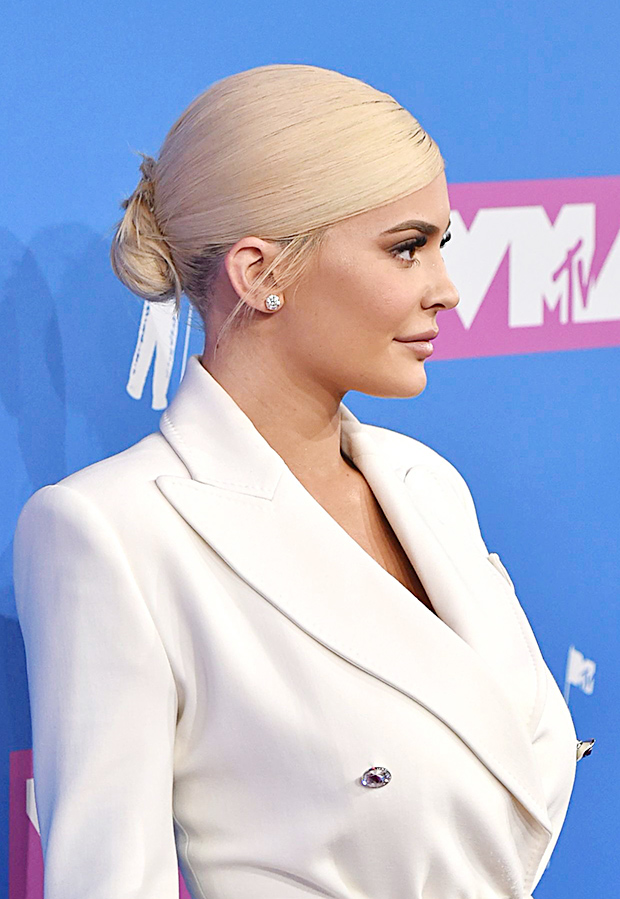 "I sprayed a ghd Oval Dressing Brush with Paul Mitchell Hair Spray to smooth the hair toward the back of the head (spraying the brush every couple of strokes). I pulled hair to the back in the middle of her head and created a pony, leaving out the two pieces in the front to create a bit of softness so the pony was not too severe or harsh. I gave the pieces one last sweep with the ghd Platinum+. To create the imperfect, perfect bun, I twisted her pony very softly and secured it with pins. I added a shine serum — Alterna Haircare Caviar Omega+ Anti-Frizz Dry Oil Mist — on top for the final touch."