Jennifer Lopez's Twins Make Rare Appearance At VMAs For Mom's Major Win — Cute Pics
J. Lo took home the Vanguard Award at the VMAs last night, so of course she had to bring the entire fam along — including her adorable twins! Click here for rare pics of the siblings.
Jennifer Lopez, 49, may be in the spotlight all the freaking time, but her kids sure aren't. Even though the singer had twins ten years ago, they're rarely ever in the public eye — but that all changed last night! Emme Maribel and Maximilian David Muniz attended MTV's Video Music Awards, and we can't think of a better night for them to step out with their famous momma. She was being presented with the Michael Jackson Vanguard Video Award, after all, which is a BIG deal. But they weren't the only family members there to support Jennifer's milestone moment. Their grandma was also there, as well as J. Lo's S.O. Alex Rodriguez, who she called her "twin soul" in her acceptance speech.
Emme and Maximilian didn't just show up to support, but really took advantage of their prime seats at the award show — especially Emme! Even Jennifer's daughter gets starstruck, which she showed when she posed for a pic with Camila Cabello, 21. The former Fifth Harmony member looked more than happy to take a picture with Emme, leaning down while J. Lo stood laughing behind them. Too cute! The twin looked adorable and so much like her momma with her long brown hair down and around her face. She was wearing white from head-to-toe with a silky shirt, a lace skirt and tights, plus shiny flats to pull the whole monochrome look together. Her brother, on the other hand, kept things simple in a nice suit.
And the little ones weren't just well-dressed, but well-mannered! They sat with A. Rod and cheered their mom on during her performance, looking like her biggest fans. How awesome that they got to experience this major moment with their momma!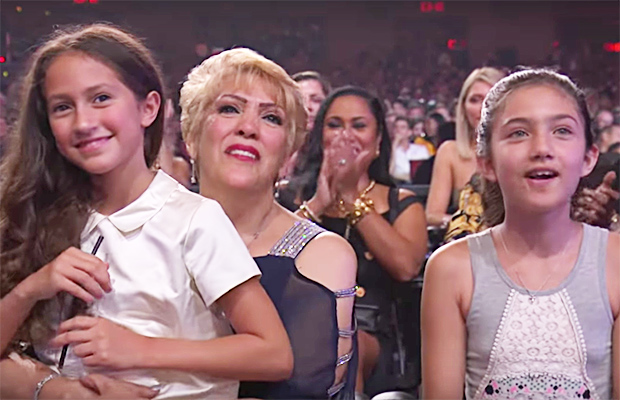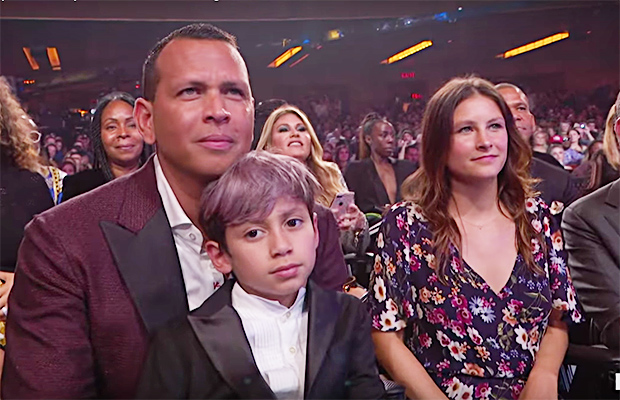 And can we talk about how comfortable Max looks hanging with Jennifer's boyfriend? We love that Alex appears to get along well with her kids. It only makes us even more desperate for these two to get engaged already!