Jennifer Lopez Rips Off Dress & Reveals Major Cleavage In Plunging Bodysuit For VMAs Performance
Deputy Editor of New York City
She's the woman of the night at the 2018 VMAs, so it's no surprise that Jennifer Lopez's style was ON-POINT for her performance. She absolutely SLAYED in her plunging gold bodysuit onstage!
Jennifer Lopez won the biggest award of the night — the Michael Jackson Video Vanguard Award — at the 2018 MTV Music Video Awards, and to go with the honor, she gave an incredible performance of some of her biggest hits. At 49, J.Lo looks like she hasn't aged a day since her first songs came out, and she proved it by showing off her amazing figure in a sparkling gold bodysuit for her performance.
J.Lo actually began her time onstage by wearing a Versace wrap dress over her ensemble, but once she got a few songs in, she stripped out of the dress to show off her insane cleavage and toned legs in the glittering ensemble. After singing a few more songs, Jennifer added a white fur coat when she started singing "All I Have" in her medley of hits, which was a perfect throwback to the wintry feel of the music video from so many years ago.
Throughout her performance, she belted out some of her biggest hits, and showed off her amazing skills as a dancer by breaking it down throughout her ENTIRE performance! At one point, she left the stage and returned in baggy gold pants and a Yankee cap to perform "I'm Real" with Ja Rule and the crowd went NUTS.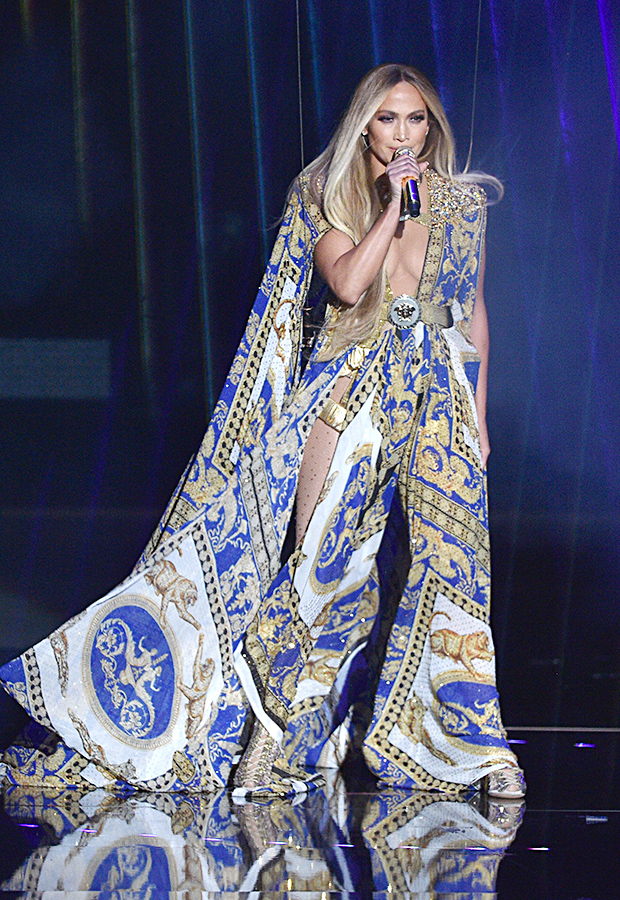 The Michael Jackson Video Vanguard Award, which debuted in 1984, is given to an artist for their accomplishments in music and film. The award is not given annually, although there has been a winner every years since 2013. Pink won the honor in 2017, preceded by Rihanna, Kanye West, Beyonce and Justin Timberlake. Clearly, J.Lo is in good company!