Shawn Mendes & More Of The Hottest Hunks On The MTV 2018 VMAs Red Carpet
The 2018 MTV VMAs are officially under way and your favorite male hotties are steaming up the red carpet! See Pauly D in fresh Nikes and more of Hollywood studs who brought their fashion A-game to NYC!
While the leading ladies of Hollywood are usually the ones to rule the red carpet at awards shows, it was the men who turned heads on the red carpet at the 2018 MTV Video Music Awards at Radio City in New York on August 20! Jersey Shore's Pauly D, 38, and Vinny Guadagnino, 30, were two of the first male stars to hit the red carpet (actually the pink carpet), where the BFFs were dressed to the nines. The DJ donned a white button-up with black pants. But it was his black Nikes with neon orange laces that turned heads. — See Pauly's full look, below!
Meanwhile, Vinny coordinated nicely in a navy blue and white outfit. — He sported dark blue jeans with a matching jacket and a white button-up undershirt. Vinny also rocked fresh-out-the-box crisp white sneakers. Both reality stars were also on hand to co-host the VMAs pre-show for the network, which they're household names at. Check out Vinny's fashion and more of the men who stunned on the VMAs red carpet in our attached gallery!
The men have really stepped up their game when it comes to red carpet fashion. Designer sneakers are a huge trend at big events like the MTV VMAs, so be prepared to see color kicks on the carpet. From brands such as Nikes, to Adidas, Gucci and Yeezy — Hollywood's hottest dudes are right up there with the female stars with their footwear choices.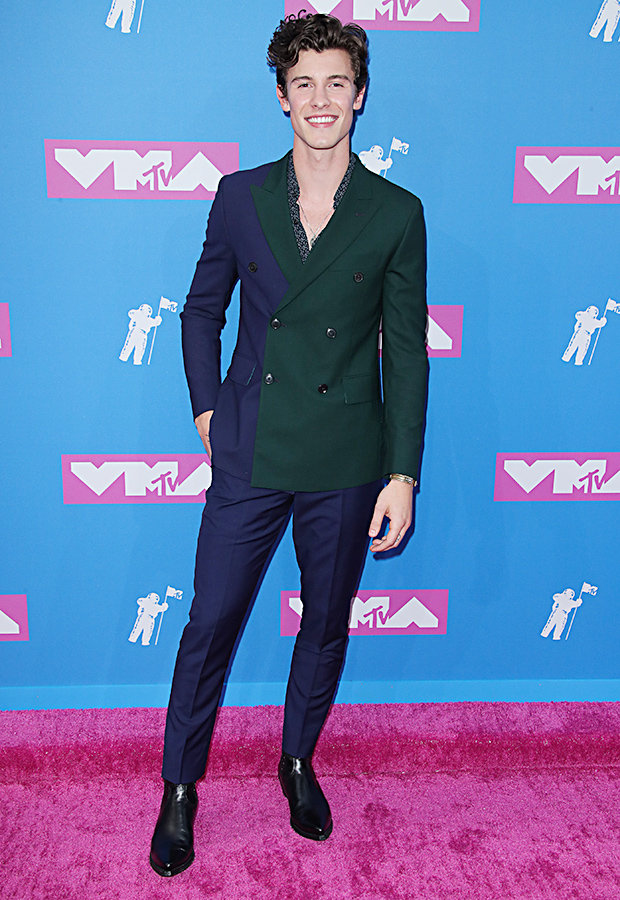 Shawn Mendes on the red carpet at the 2018 MTV Video Music Awards at Radio City in New York City on Monday, August 20.
While we wait for one of music's biggest nights to kick off, there's plenty more fashion to be fussed over. Other stylish men who will hit the red carpet include presenters, Liam Payne, Kevin Hart, DJ Khaled, Common, G-Eazy, Gucci Mane, Keegan-Michael Key, Kyle, Lenny Kravitz, Lil Uzi Vert, and many more!
When the doors to Radio City finally open, we'll be subject to many big moments throughout the night. Cardi B — who leads the nominations with 12 nods — will make her first appearance since giving birth when she opens the VMAs. Then, Jennifer Lopez will be presented with the iconic Michael Jackson Video Vanguard Award later in the night. And, the singer will also take the stage for her first VMAs performance since 2001!