Cardi B Rocks Kris Jenner Look-A-Like Hair Makeover At VMAs After Hanging With The Kardashians
New hair, who dis?! Cardi B made her return to the spotlight with a brand new do' at the MTV VMAs on August 20! She channeled her new BFF, Kris Jenner with a head-turning dark pixie cut! See it here!
OKUURR! — Cardi B, 25, turned heads on the red carpet at the MTV Video Music Awards in New York City on August 20! The rapper showed off a brand new dark pixie cut, giving us serious Kris Jenner, 62, vibes. Cardi showed off her post-baby body and hair makeover at the annual show — marking her first public appearance since giving birth on July 10. Chex out a closeup of her new do' below, and see how similar she looks to the Kardashian matriarch!
"K mom," Cardi captioned an Instagram photo of her full VMAs look — a velvet purple gown that was strapless, showing ample cleavage. The similarities between Cardi and Kris' haircuts are uncanny, and the fact that they're good friends makes it all the better. Cardi enjoyed a girls night at Kris' Calabasas home on August 3, along with Kim Kardashian, 37. The trio too selfies during their hangout, with Cardi posting one of her own with the hilarious caption: "Im offically apart of the rich people club!! I'm not poor anymore mwaaaaahahahaha!! P.s I'm selling one of @krisjenner napkins on eBay!!"
It's a big night for the new mom as she's slated to open the VMAs! However, when she hits the stage inside Radio City, it will not be to perform. Cardi confirmed the news just days before the show with a note on her Instagram story. So, what will her "opening" consist of? — That's the question of the night! It's a total mystery as to what Cardi will do for her opening, which has fans buzzing online with all sorts of guesses!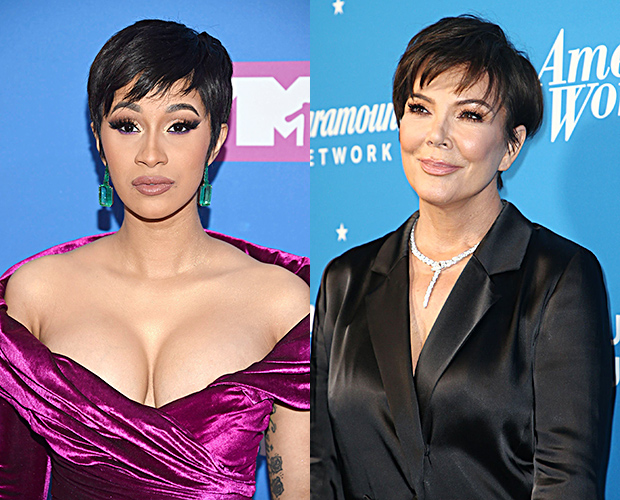 Cardi B debuts a brand new dark pixie cut, similar to that of Kris Jenner's at the 2018 MTV Video Music Awards at Radio City in New York on August 20.
Cardi leads the nomination pool with 10 nods, including Video of the Year and Artist of the Year. — Welcome back, Cardi!