Ashley Benson Bonds With Cara Delevingne's Family As Romance Heats Up: Getting Serious?
When bae meets the fam, you know it's real! Cara Delevingne and her rumored girlfriend, Ashley Benson had a night out with the Delevingne sisters and we've got the photo and the adorable details!
Cara Delevingne, 26, and Ashley Benson, 28, seem like they're getting pretty serious, pretty fast! It appears as though the model introduced her rumored actress girlfriend to her big sisters, Poppy, 32, and Chloe Delevingne, 33, on August 18 for a night out with friends. Cara's family and friends, along with Ashley attended a Secret Cinema screening of Baz Luhrmann's 1996 classic Romeo + Juliet in Acton, west London on Saturday night. The group posed for photos, all coordinating in black and red outfits.
The entire group went all out for their movie night, dressing in costume. — They dressed as the feuding families in the famous family, with half of the group as the Montague family, the other half as the Capulet family. Poppy shared a series of fun photos on her Instagram page, with some of them donning "peace maker" sashes, while others wore "peace keeper" sashes. — Check out one of the snaps, below!
Ashley even posted a photo away from the group, of just her alongside Cara in an elevator. The rumored couple's night out came less than a week after their relationship hit the public circuit. The two were photographed kissing in at Heathrow Airpot in London on August 14, seemingly confirming their romance. Then, on August 17, Ashley took to Instagram to post a selfie, when fans took notice to one of her necklaces. One of the chains around the actress' neck featured the letters "A" and "C". — The letters which represent the girls' names.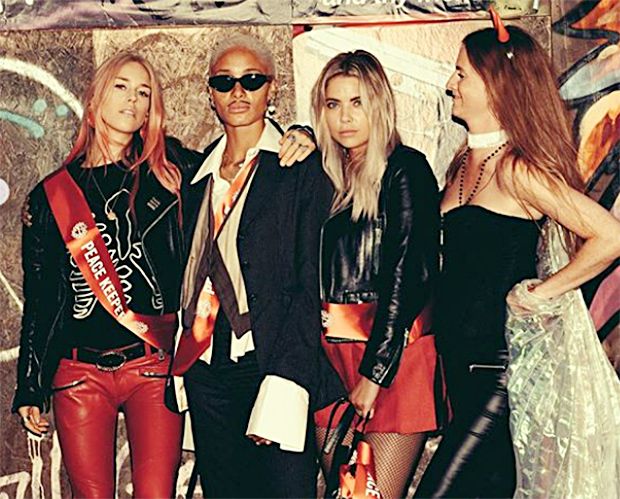 Ashley Benson enjoys a night out with rumored girlfriend, Cara Delevingne and Cara's family, plus friends. Some of them are pictured above at a Secret Cinema screening of Baz Luhrmann's 1996 film, Romeo + Juliet in Acton, west London on Saturday August 18.
Even days before their airport PDA, Cara rang in her 26th birthday with Ashley, as well as other stars. Cara shared photos from her birthday party — which included Kate Beckinsale, Suki Waterhouse, Zoë Kravitz, Sienna Miller and Margot Robbie— on Saturday, August 18.
Ashley and Cara first sparked romance rumors back in April, when they were spotted getting cozy and holding hands outside Lucky Strike in New York City. The two left the venue with friends and walked to the Soho Grand Hotel hand-in-hand. At the time, they had been working on the movie Her Smell together, which is set for release in 2019.
Cara's been linked to a slew of female stars in the past, including Paris Jackson, St. Vincent, and Michelle Rodriguez. Meanwhile, Ashley was in an on/off relationship with Ryan Good, Justin Bieber's close friend and former stylist, until they finally split in 2016.
Neither Cara, nor Ashley has commented on the status of their relationship.