Meek Mill Trolls Nicki Minaj, Safaree & Tyga's 'Action On The Net' — See Hilarious Message
Right now, it's good to be Meek Mill. Amidst the massive drama surrounding Nicki Minaj, Safaree Samuels and Tyga's hairline, all Meek could really do was sit back and laugh.
" 'Alexa' catch me up to today's action on the net," Meek Mill, 31, posted to his Instagram on Aug. 14th, right after the messiest of messy dramas broke out between Safaree Samuels, 37, and their mutual ex, Nicki Minaj, 35, (oh, Tyga was involved, too.) It was a bit trollish of Meek, but after what went down, can anyone blame him for poking fun? He must be feeling pretty blessed that his name didn't come up during Nicki's Hot 97 interview. It was in that sit-down where she accused Safaree of stealing her credit cards and paying for prostitutes while they were still together. Meek did come up in the drama afterwards, when the real fireworks went off, but he still managed to get away in one piece.
Oh, the drama. Following Nicki's interview, Safaree responded in a lengthy Twitter rant in which he denied stealing her credit card ("Now I stole your card? The [one] you gave me [the] pin for and had me doing ish with?") before indicating that he wasn't the only one getting some action on the side ("you did sh*t I did sh*t.) He did accuse Nicki of "messing with Meek a few years [before] y'all got together and I'm not mad at that." He would also accuse her of cutting him, to the point where he "almost died."
Nicki, in turn, accused Safaree of "lying" but she pretty much brushed off the domestic violence accusations. She then said she should have never paid for "that gyatDamn hairline!" and that "Tyga's sh*t aint fall back out. Y'all went to the same doctor!" You know it's serious when they start going after each other's hairlines. Tyga pretty much owned up to the allegations of a hair transplant, but he did it in the chilliest way possible – by giving a "plug" of his own!
This is why 2018 is so unbelievable: out of all the people involved in this mess, Meek Mill is coming out as the adult in the room. Gone are the days when he was a punchline for losing the rap battle with Drake. It seems like there's really nothing that anyone can say that can shake him (which makes sense, since he just spent time in prison. Someone talking trash about him on a rap song must pale into comparison to that.) Even after Nicki poked fun at him in her track, "Barbie Dreams," he had a decent sense of humor about it.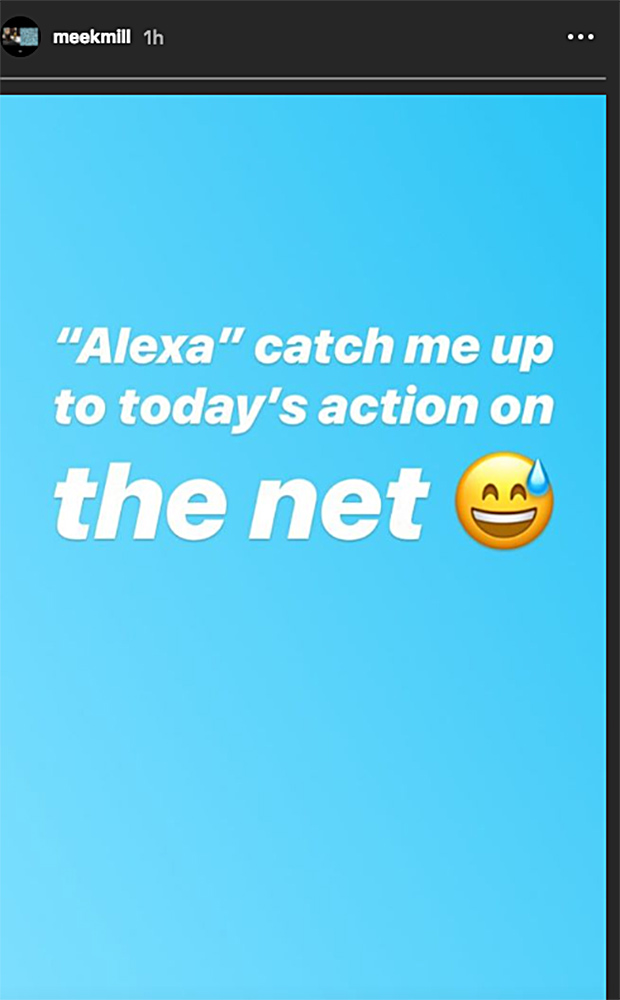 "Meek still be in my DMs, I be havin' to duck him / "I used to pray for times like this " face-a** when I f*ck him," she raps on the track. When the song dropped, Meek posted a picture of himself looking "shocked" to the Instagram with the weary face emoji. Nicki actually liked the post, per Genius. Hey, when the world around you is on fire and everyone is battling like it's World War 3, all you can really do is laugh.