Elizabeth Hurley, 53, Nearly Loses Her Bathing Suit While Riding A Sea Scooter — See Pics
Slow down, Liz! Elizabeth Hurley was having a ball in a new Instagram video, but her fun almost resulted in a wardrobe malfunction!
Not only does Elizabeth Hurley, 53, look years younger than she is, but she clearly has a much younger soul too! The vivacious star was having all the fun in her latest Instagram video, and her playful demeanor was that of a young child. Liz showed off her youthful physique in the video, as she rode though waves on her brand new sea scooter. The Royals star's tight-fitting swimsuit started slipping at one point though, and Liz's right breast almost popped out of her swimsuit!
The close call came as Liz whizzed through the water at full speed, but that wasn't the only skin she showed. The former model's swimsuit was SUPER cheeky, and her entire bum was in full view! Liz didn't seem to mind though, and was all smiles as a friend took her video. "New favourite toy," Liz captioned the video which she shared with her 1 million followers.
In typical fashion, Liz donned one of her very own swimwear designs that day, from her Elizabeth Hurley Beach collection. The striking swimsuit, a navy colored one-piece that featured an open back, was one of many the star has been showing off lately! Just one day before, Liz shared a super sexy photo on Instagram in a different one-piece, that plunged deep below her chest. Elizabeth's curves were on full display in the photo! As she posed on a yacht, she rocked aviators for the sultry pic, and flashed a big smile. Her skin looked incredibly tan and toned, and Liz truly looked years younger than her age!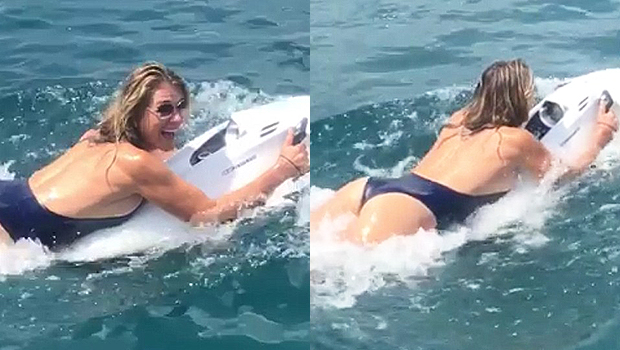 How does Elizabeth keep so fit?! The star has been incredibly open about what it takes to maintain her flawless physique. "I don't do any regulated exercise, but I'm very active. On the weekends I go for long hikes with my dogs. I try and stretch every day. I do the occasional yoga or Pilates class, but mostly it's just self-exercise at home. I might do some stomach exercises or some bottom or arm exercises, but because I trained for a dancer when I was young," she revealed in a 2017 interview with The Cut. We just might have to take a page out of Elizabeth's book!