Constance Wu Looks Like Royalty At 'Crazy Rich Asians' Premiere — How To Get Her Sleek Hair
Constance Wu rocked a totally sleek and frizz-free style at the 'Crazy Rich Asians' premiere in L.A. on Aug 7. We got the scoop from her glam squad so you can copy her exact look!
Crazy Rich Asians is poised to be one of the biggest movies of all time, and star Constance Wu did not disappoint at the world premiere on August 7. Held at the TCL Chinese Theatre in Los Angeles, she stunned in a Ralph & Russo dress that was covered in crystals. Her glamorous makeup was done by celebrity makeup artist Molly Greenwald and her sleek strands were styled by celebrity hairstylist Derek Yuen. Here's what they did to get her red carpet ready!
Molly told us Constance asked for a "limousine lash" to match the glitz and glamour of the premiere. "To get the natural, but luxe look, I used Lashify C14 lashes in the center of the eye, tapering down on either side with Lashify C12-sized lashes. I affixed the lashes with a black glue, a trick that creates more depth toward the root of the lashes." These "temporary" lashes can last up to seven days, and cause much less damage than lash extensions! Hairstylist Derek says her hair was inspired by her Swarovski–crystal covered outfit. "Looking at her in that dress, it was about making Constance a Hollywood goddess that is so statuesque and proud to be representing and carrying this film that's so meaningful to so many people. That's where all our heads were at without really saying it."
Derek continued, "To mirror the gown's clean lines, I opted for a sleek, clean look that emphasized hair health and shine. After trimming the ends of Constance's hair in the back to reveal just a sliver of skin between the dress line and the hair, I used Leonor Greyl Condition Naturelle on the hair from roots to mid-shaft to help create hold that would last and Leonor Greyl Lait Luminescence Bi-Phase on just the ends to boost hydration; Luminescence Bi-Phase is so great for brittle dry hair to blow dry it and make it really shiny again. After combing products through to distribute evenly, I created a laser-cut center part, using a rat-tail comb. Creating a perfect part is almost a gravity trick. To get it right, I place my forefinger at the center of the hairline and my thumb in the back of the crown, using my forefinger as a guide to push the comb toward my thumb in order to get as straight a line as possible."
"Once the center part was in, I blow dried the hair on low heat with a in sections using a boar-bristle brush, starting from the back and moving toward the front. I love using a boar-bristle brush with Leonor Greyl products because it spreads product evenly throughout the hair and gives it such a nice shine. After drying each section, I used a pea-sized drop of Leonor Greyl Éclat Naturel on my hand, then smoothed it over the section of hair for a sleek look that amplifies shine. To lay front sections of the hair behind her shoulder, I sprayed Leonor Greyl Laque Souple directly onto a boar-bristle brush and worked it into the roots before tightly brushing sections back behind the ears."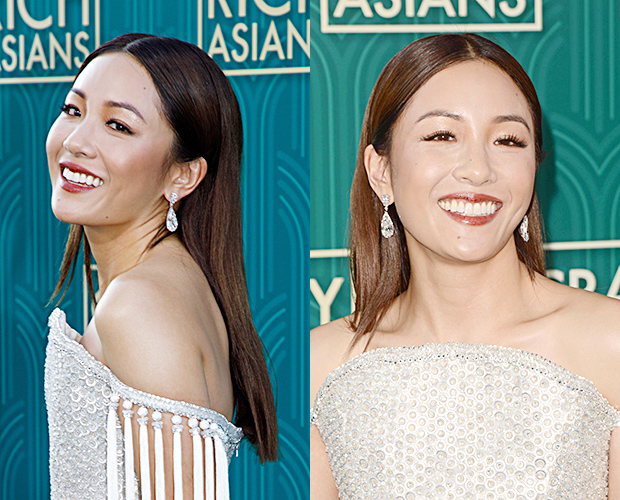 "Once the blow-dry was complete, I set the hair by using non-creasing clips to temporarily clip front sections in place, then used a light mist of Leonor Greyl Laque Souple all over the hair, smoothing any flyaways down with my hand or a brush. After Constance got dressed, I removed the clips and used a toothbrush dipped in Leonor Greyl Gel À L'Hibiscus to smooth any flyaways along the hairline while boosting shine."