Kourtney Kardashian & Younes Bendjima Split: What Went Wrong — Their Blowout Fight
HollywoodLife.com has EXCLUSIVELY learned the details behind the ugly fight that led to Kourtney Kardashian and Younes Bendjima's split, and the surprising thing he was 'pressuring' her to do!
It looks like the split between
Kourtney Kardashian
, 39, and
Younes Bendjima
, 25, wasn't a peaceful one. A source close to Kourtney EXCLUSIVELY shares with
HollywoodLife.com
why she
had
to call quits on her relationship, which was confirmed on Aug. 7 after
TMZ
revealed
PDA pictures
of Younes and model
Jordan Ozuna
, 28, in Mexico together. And it wasn't for just one reason. "Kourtney and Younes had a massive blowout
fight
just a few weeks ago and that was really the beginning of the end. Kourtney thought Younes's comment on her Instagram pic was embarrassing," our source shares. "She was furious that he made such an insensitive remark and she thought he was being a hypocrite about the situation since he flaunts his body on social media all the time."
As we've told you, our source was referring to when
Younes dissed Kourtney's
booty-baring Instagram picture on July 16. He wrote under the post, "that's what you need to show to get likes?" But Kourtney wasn't just upset over one comment. "The
fight
was just a part of Kourtney's larger problem with Younes. She felt she had to end things with him because he was a bit too young, immature and their timing was off," our source adds. "Kourtney is a mom and will always put her kids first."
Since Kourtney puts her kids
Mason
, 8,
Penelope
, 6, and
Reign
, 3, first, she was NOT down to jet set as much as Younes probably would've preferred to! "She realized that Younes likes to travel all over the world with her and while that is fun for a while, it is not the lifestyle she wants right now," our source goes on. "He was putting a lot of pressure on her to move to Europe at least part time to be with him and that just was never going to be possible." Woah, hold up – a quick getaway with
Younes in Italy
was understandable. But we can't imagine a Kardashian setting up camp outside of Calabasas, even if it was just part-time! Kourtney's certainly not a stay-at-home mother, but she doesn't seem like someone that would want to yacht across Europe for half the year either.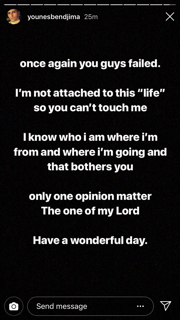 Being that Younes is only 25, we can understand if he's still got a wanderlust itch to scratch before settling down! As you can see above, Younes wrote on Aug. 7, following news of the split, "I'm not attached to this 'life' so you can't touch me." Clearly, Younes is a free spirit, so we're happy Kourtney set him free!